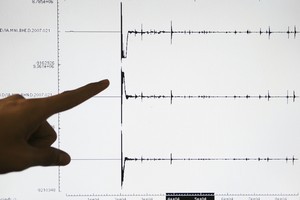 No tsunami warning has been issued for New Zealand following a powerful earthquake off Japan's eastern coast.
The Japan Meteorological Agency has issued a tsunami advisory for the Iwate, Miyagi and Fukushima prefectures following the 7.1 quake this afternoon.
Duty Civil Defence spokesperson Tony Wallace said the Fire Service was alerted immediately after the quake, but was stood down shortly afterwards.
He says there is no threat to New Zealand, but Civil Defence are keeping a close eye on the situation.
No visible signs of a tsunami have been seen in Japanese waters.
A small tsunami of up to 50 centimetres was expected along the affected region, but no major changes in the waters have been detected at this stage.
Tokyo Electric Power says it has not received reports of any fresh problems at the crippled Fukushima nuclear plant.
A spokeswoman says they are still checking details but cooling of reactors is continuing.
The quake struck off the east coast of Honshu, and was at a depth of 10 kilometres.
The Pacific Tsunami Warning Centre says no destructive widespread tsunami threat exists but such large quakes can generate local tsunamis that can be destructive along coasts within 100 kilometres of the epicentre.
The quake struck about one o'clock this afternoon New Zealand time.
- Newstalk ZB