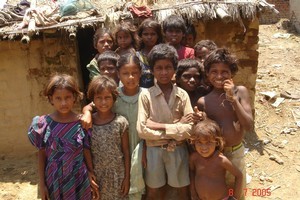 A small ray of hope has recently emerged for India's "untouchable" Musahar rat-eating community in eastern Bihar state in the form of a residential school that offers their youth not only free education but the self-esteem denied to them for centuries.
In two identical buildings in Bihar's capital Patna, the 5-year-old Shoshit Samadan Kendra (SSK), or School for the Welfare of the Exploited, provides about 200 Musahar boys from squalid ghettos not only free board but uniforms, books and access to computers.
"I was destined to raise pigs and live a life of wretchedness but that changed four years ago after joining SSK which has opened up a dream world of possibilities," said Pappu Kumar, 14.
Dressed in his white cotton uniform and barely distinguishable from students of the nearby exclusive St Xavier's, the city's oldest, Jesuit-run school, the academically brilliant Kumar plans the unimaginable: competing alongside Bihar's higher castes to join one of the handful of Indian Institutes of Technology whose alumni now manage global corporations.
"SSK aims to bring about a revolution in the Musahar community that has lived in sub-human conditions for centuries," said founder JK Sinha, who retired in 2005 as one of India's top intelligence officers and returned home to found the SSK.
Pooling his life savings with contributions from family and friends, Sinha set about establishing the SSK to uplift the socially shunned Musahar community, who were exploited as bonded labourers by upper-caste landlords and mahajans (money lenders).
Even today, the four to five million untouchables are confined by the upper castes to living in foul-smelling ghettos called "Mushairies" or "Musahar Tolis" on the outskirts of many Bihar villages with neither rights nor privileges.
Being untouchables, they were considered outside Hinduism's rigid caste system - an ancient hereditary class order that divides society into four general categories - traditionally being associated with unhygienic jobs such as the cleaning up of human waste.
At the top of the caste system are the Brahmins while the lowest, manual labourers are the Sudras; in between are the Kshatriyas (warriors) and the Vaishyas (traders). These antiquated gradations are strictly enforced in Bihar, India's poorest province.
The high-caste Sinha, however, believes that by educating Musahar children, they will have the means to become a catalyst for change within their depressed community.
Official figures show that almost all Musahars are landless labourers and barely 3 per cent are literate. Social activists in Patna estimate that under the prevailing conditions it will take the Musahars 4419 years to achieve complete literacy.
Centuries of deprivation, apartheid and usurious money lenders have driven many Musahars to crime and large numbers of their youth have joined the Maoist movement, which is active across large parts of Bihar, to secure economic and social justice for the poor through a "People's War".
"Musahar children know only poverty, which we aim to mitigate through SSK," said Sinha, adding the initial response to his school had been sceptical.
The Musahars were unconvinced this former intelligence officer could offer them an alternative to the ramshackle, State-run rural schools with no teachers or textbooks that they were used to.
But, within two years, attitudes began to change and, last year, 750 Musahar children took part in SSK's entrance examination for 50 places in a school where the medium of instruction is English, the language of social mobility and guaranteed esteem in India.
SSK's teacher/student ratio of 1:17 too is significantly better than most leading private schools and the teachers are conscientious and well paid. "By ensuring the quality of education we can change the profile of poverty in the state," Sinha said.
Eleven-year-old Pankaj Kumar Manjhi, who had earlier lived on Patna's outskirts with his widowed mother who earned 25 rupees (68c) a day during the agricultural season lasting about eight months a year, said: "I was living in filth in a mud hut with no clothes, food or dignity."
For the remaining period, mother and son scoured Patna's mountainous rubbish heaps for sustenance. "All that is behind me now in SSK," said the class 7 student who aspires to become an engineer. "I am somebody now and will become important."
Sinha, meanwhile, who rents SSK's premises and plans to increase the annual intake to 55, is determined to build his own school for which land has been acquired but needs funding for construction.
He recently launched a campaign to raise 55 million rupees from local and overseas corporations and non-governmental organisations and is optimistic about achieving his goal. "It's a meagre sum to give the Musahars dignity and to trigger a cataclysmic change among them," he said. "It's the least we can do for them."