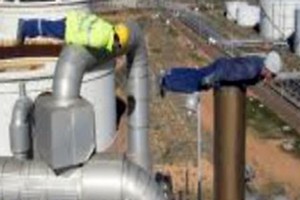 Two gas workers have been sacked after they were photographed "planking" on pipes and a smokestack 60m up in South Australia.
The men's actions were viewed as extremely dangerous and they were immediately fired from the Santos complex in Whyalla.
The internet craze shows no signs of abating despite safety warnings and the death last week of a Brisbane man who fell from a seventh-floor balcony railing of an apartment building.
Planking involves being photographed lying flat on a novel and precarious object, with the photos published online.
Despite the dangers the Planking Australia Facebook page last night had 149,425 fans.
- Staff reporter