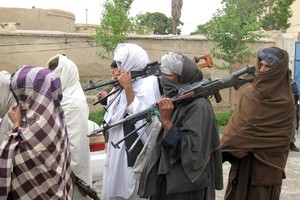 As Australia prepares to commemorate Anzac Day, the nation has been warned to brace itself for more bad news from Afghanistan.
Taleban insurgents are expected to launch determined new offensives as the fighting season resumes in a bid to reverse gains claimed by international forces.
"I'm worried about the forthcoming fighting season, because I think that will be difficult and dangerous," Defence Minister Stephen Smith told ABC television.
"We have made progress against the Taleban in Uruzgan Province - and generally, as an International Security Assistance Force over the last nine to 12 months - and the Taleban know that they have to try and make that ground up."
Twenty-three Australian soldiers have been killed with another 169 wounded in its decade-long war in Afghanistan, a commitment that has lasted longer than Vietnam and which most Australians oppose.
Its force of about 1550 in Uruzgan Province includes special forces, infantry, armour, engineers and helicopters, with a civilian-led provincial reconstruction team.
Australia's main military task is mentoring and training the Afghan National Army's 4th Brigade before its planned takeover of security in Uruzgan from next year, as part of a programme of transition by the end of 2014.
Progress will be assessed at the next meeting of Nato and ISAF defence ministers in June, but Smith has already indicated that, despite optimism, Australia expects to remain committed beyond the 2014 deadline.
He has also expressed reservations about the ability of President Hamid Karzai to meet his political commitments.
"The international community must continue to press President Karzai and his Government to deliver on his undertakings ... to improve governance, pursue electoral reform, take effective anti-corruption and anti-narcotics measures and create social and economic opportunities for all the Afghan people, including Afghan women and girls," he said in a statement to parliament.
Australia's concern at the prospect of continued heavy fighting has been reflected in a A$1.6 billion ($2 billion) programme to protect its troops, including an early warning system against rocket, artillery and mortar attacks, better body armour and new camouflage combat uniforms.
The army has also received new measures to counter roadside bombs and other improvised explosive devices - responsible for many of Australia's dead and wounded - and tougher armour and heavier-calibre weapons for its vehicles.
Smith told parliament there were signs the recent United States-led troop surge, combined with a "strong military and political strategy", had reversed the Taleban's momentum in an incremental and hard-won campaign.
ISAF Commander General David Petraeus told the US Congress last month that districts west of Kandahar city - the birthplace of the Taleban - had recently been cleared of insurgents, and that in the past four months there had been a fourfold increase in the number of weapons and explosive caches seized.
About 700 former Taleban fighters have been officially reintegrated with Afghan authorities, with a further 2000 in various stages of reintegration.
Smith said that in Uruzgan Province security had expanded across areas previously controlled by insurgents as Australian and Afghan troops transferred key patrol bases to the National Police, allowing an increasingly competent Afghan Army to move into contested areas.
"Australia's assessment of the 4th Brigade's capacity is that it is effective with assistance and increasingly capable," he said. But the province is not among the first areas to revert to Afghan authority announced by Karzai last month, which include the provinces of Bamyan, Panjshir and most of Kabul, and the districts of Mazar-e-Sharif, Herat, Lashkar Gah and Mehtar.
"There was never an expectation that Uruzgan would be in the first tranche of districts and provinces to begin transition," Smith said. "We believe the Uruzgan transition process can occur over the next three years, between 2012 and 2014."
But Smith said the next few months would be an "acid test" for Australian and other international troops. US Defence Intelligence Agency head General Ron Burgess, had warned that the security situation was still fragile, and the Taleban remained resilient.
"So it's going to be a difficult fighting season," Smith told the ABC.
"In addition to attempts to claw back territory on the ground ... you've also seen in recent times their other strategy which is to seek to inflict high-profile damage - whether it's the Defence Headquarters in Kabul or a police headquarters in Kandahar - to give them high profile propaganda."