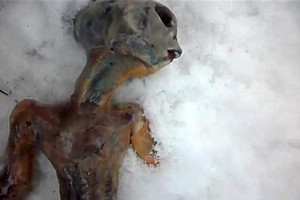 A video posted on YouTube that allegedly shows the discovery of what is purported to be a dead alien has received over a million views in two days.
The video titled "Dead alien found in UFO hotspot in Russia; With translation" was uploaded on April 17 by user Allnewsweb.
According to the blurb attached to the video the images are related to a news story published last month in Russia about sightings of what many claim was a UFO crash.
The video shows an object that is claimed to be the dead body of an alien. It has a large grey skull, large black eyes and four limbs and looks like the famous alien in the film E.T.
Debate rages over whether the video does indeed show a deceased alien life form in Siberia ... or is an elaborate hoax.
- INDEPENDENT