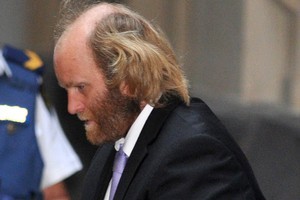 The man who threw his four-year-old daughter off Melbourne's West Gate Bridge has been found guilty of murder.
Arthur Phillip Freeman stared straight ahead and showed no emotion as a jury foreman announced he was guilty of murdering his daughter Darcey.
Darcey's mother and Freeman's former wife Peta Barnes also remained stoic as the verdict was delivered in the Victorian Supreme Court, while members of her family, including Darcey's grandparents, wept.
Freeman, 37, flung Darcey 58 metres to her death on January 29, 2009.
At the end of five days of difficult deliberations, the jury delivered its verdict at 8pm last night after it had appeared it would be unable to reach a unanimous decision.
On Sunday, jurors told Justice Paul Coghlan they would "never" be able to deliver a verdict.
But Justice Coghlan urged them to continue deliberations.
By lunchtime yesterday, jury questions indicated they may have been making some progress and they later asked to deliberate into the evening.
Several of the five men and seven women on the jury wept as Justice Coghlan thanked them for their service.
Jurors were asked by Freeman's defence lawyer to decide whether the father of three was "mad" or "bad" when he killed Darcey.
Minutes before he killed Darcey, Freeman had telephoned his former partner Peta Barnes and told her to: "Say goodbye to your children".
He then parked in the left-hand emergency lane of the bridge, put his hazard lights on, left his two sons in the car and picked up Darcey.
He threw her over the bridge.
As Freeman drove off, Darcey's older brother Ben urged him to turn back.
"Darcey can't swim," he said.
Freeman drove to the Federal Law Courts complex where he started sobbing and shaking uncontrollably.
He was later arrested there.
Graham Burrows, a psychiatrist of 40 years experience, told the jury, Freeman was in a dissociative state and suffering from possible psychosis when he killed Darcey.
"He had suffered from a major depressive disorder," Prof Burrows said.
"This man was very psychiatrically disturbed."
But Prof Burrows was described by chief crown prosecutor Gavin Silbert SC as a "psychiatrist of last resort".
Mr Silbert said five other psychiatrists had found Freeman was not mentally impaired at the time he killed Darcey.
Two psychiatrists called by the prosecution at Freeman's trial testified Freeman was sane at the time he killed Darcey.
They cited spousal revenge and anger as the reasons why Freeman killed Darcey.
Mr Silbert told the jury Freeman killed Darcey in a fit of anger.
"What it amounts to, ladies and gentlemen, is that in a paroxysm of anger with Peta Barnes he stopped on the bridge and threw Darcey over the rail," he said.
By the time his trial began earlier this month, the once neat, business-like Freeman had adopted a new look, with frizzy long hair and an unkempt beard.
After a two-week trial the jury began deliberating last Wednesday and sat through the weekend.
In the early afternoon on Monday, having received several questions from individual jurors, Justice Coghlan said he would discharge the jury if they were unable to reach a verdict.
Justice Coghlan said he believed it was the first time questions had been taken from individual jurors, rather than the jury as a whole, in a trial.
He told the jury to go back and consider if his answers to their questions had achieved anything.
"If you don't think it has, I am not going to force you to deliberate further," Justice Coghlan said.
"Give it a reasonable time, but don't think you have to keep at it forever,".
Shortly after returning from a dinner break the jury announced Freeman's guilt.
Ms Barnes' parents and Freeman's parents were all in court for the verdict, but left without speaking to waiting reporters.
A pre-sentence hearing for Freeman will be held on Friday.
- AAP