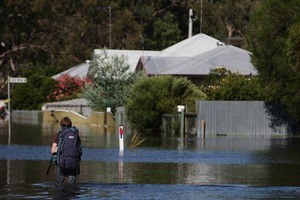 MELBOURNE - A large body of water gradually moving towards the northwest Victorian city of Swan Hill has threatened small communities in its path as evacuation orders continue to be issued.
Two weeks after a deluge hit the region, major flood warnings remain in place for the Murray, Loddon and Avoca rivers, and high water levels are expected to continue disrupting communities for several days.
The State Emergency Service (SES) advised residents west of Mystic Park and towards Lake Boga to leave their homes yesterday afternoon, with properties and roads in low-lying areas expected to be impacted.
A levee at Forrest Road in the area between Murrabit West and Benjeroop failed in two places last night and residents were told water had entered the area, threatening to isolate those communities for more than a week.
The SES now expects that flows from the Loddon River will produce a slower rate of river level rise at Swan Hill rather than the surge that had been predicted.
The river height is now expected to peak above the major flood level of 4.7 metres around Friday or Saturday.
SES acting operations director Tim Wiebusch said the towns of most concern today lie south of Swan Hill, with about 250 properties at risk of inundation.
"We are expecting at this time the main levee around Swan Hill will hold protecting the main township," he told the Nine Network today.
"It's really those communities and houses on the outside of the main township's levee that we have concerns for at this time."
And two Royal Australian Navy Seahawk helicopters have been redeployed to Victoria from Queensland, where they were involved in that state's floods recovery efforts.
The Seahawks will be on deck in Victoria from today to help move emergency services personnel and deliver supplies to communities isolated by floodwaters.
- AAP