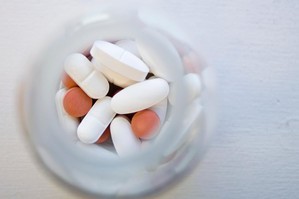 LONDON - Scientists unveiled the latest weapon in the battle against Alzheimer's disease yesterday - a humble vitamin.
Researchers from the University of Oxford have found that taking tablets of three B vitamins every day slows the brain shrinkage that happens with age, causing early signs of dementia such as memory loss.
In a two-year trial, the vitamin supplement delayed the rate of brain atrophy by up to half in a group of elderly people, with a more than 30 per cent reduction overall. About 1.5 million people in Britain, 14 million in Europe and five million in the United States have problems with memory, language or other mental functions known as Mild Cognitive Impairment, half of whom go on to develop Alzheimer's or another form of dementia within five years.
The researchers said it was too soon to recommend elderly people suffering memory lapses should take B vitamin supplements until further studies had confirmed the benefits and risks.
Large doses of around 300 times the daily recommended intake of B12 and four times the recommended levels of folic acid were used in the trial.
The researchers said this meant they acted like a pharmaceutical drug rather than a nutritional supplement and would require further safety tests.
The researchers are now seeking funding for another trial.
B vitamins are found in meat, whole grains, potatoes and Marmite. They promote cell growth and division, enhance the immune system and maintain healthy skin and bones.However, taking B vitamin supplements in large doses can be harmful. There are eight B vitamins, but only three were used in the study - B6, B12 and folic acid (B9).
- Independent