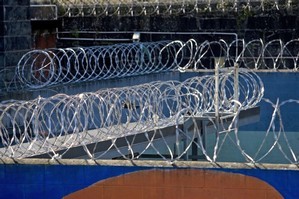 Environmentally friendly prisons? Liberals think they're a no-brainer, right-wingers might view them as just another hand in the public purse. Do the world's incarcerated now have a responsibility to save the planet?
The Washington State Department of Corrections seems to think so.
This week, the US Green Building Council awarded the department a plaque for Leadership in Energy and Environmental Design - for a 21-building, medium-security extension at its Coyote Ridge Corrections Centre in Connell, a small city in the state's Franklin County.
Completed in in 2008, the jail uses 21 million litres less water than its conventional equivalents, saving its operators around US$370,000 ($525,000) in energy costs.
Its solar panels occupy 1570sq m and it floods its corridors with natural light. But is this money well-spent?
The prison's staff are congratulating themselves. Facility manager Glenn Jones said the jail had performed "better than we hoped".
He described how its laundry system reduced reliance on a local aquifer, and how a rubbish recycling programme had cut the amount of waste produced by half.
Environmentally, at the very least, it is easy to see why the US$230 million extension has picked up a gong.
From the outside, the barbed wire and monolithic concrete blocks make it look like any other correctional outpost.
But then, visitors catch a glimpse of a "drought-resistance landscape" of gravel instead of thirsty grass (cutting water use by 25 per cent).
In a 100-bed segregation unit and eight 256-bed units of inmate housing, state-of-the-art, long, thin windows keep cells cool in summer and retain heat in winter.
Efficient boilers and ventilation systems have helped the prison slash its energy consumption by half. Building materials that don't contain volatile organic compounds make the interior more habitable.
Then there are the social benefits. According to Prison Design, an influential book on incarceration architecture, "a prison system can function properly only where there is a balance between security and a human environment, and buildings that will facilitate positive activities with staff and prisoners".
The authors highlight inmates' frustration regarding "lack of freedom and movement" and an inability to manipulate their immediate environment.
Coyote Ridge's modern ethos and hybrid accommodation are mitigating factors. Indeed its balance, as the authors see it, between "security requirements and over-oppressive atmosphere" is likely to stave off inmate hostility and encourage acceptable behaviour. It's likely to reduce the ill-effects on staff and save taxpayers' money."
The State Department says the key to the success of the project was that "innovation and cost savings were provided by every member of the team".
- Independent