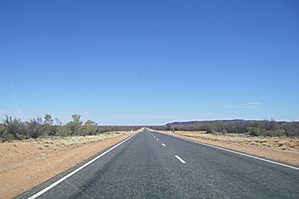 The vast, empty tracts of the Australian Outback could provide a massive boost in the fight against climate change, a study has found.
Researchers said forests, grasslands and woodlands in a 6 million sq km arc from New South Wales' central west, across the continent's northern rim and down to the West Australian wheatbelt held huge potential to reduce greenhouse gas emissions.
The study, by the NOUS Consulting Group for the global Nature Conservancy organisation and the Pew Environment Group, has been released as Australia's leaders agonise over climate change policies ahead of this year's elections.
It said that 9.7 billion tonnes of carbon was at present stored in the Outback, and that with new, relatively cheap policies, an extra 1.3 billion tonnes could be held in a natural "pollution bank" by 2050.
This would be equivalent to taking 7.5 million cars off the road every year for the next 40 years.
The study said Australia could cut its greenhouse emissions by 5 per cent by 2030 by using inexpensive and practical measures to increase the storage of greenhouse emissions in the Outback and reduce climate pollution.
These included better management of grazing and fire, controlling huge numbers of feral animals - including camels, pigs, rabbits and buffalo - reducing land clearing, and encouraging regrowth of native vegetation.
The report said several of these measures, such as reduced land clearing, managing wildfires and controlling feral animals, cost less than A$20 ($24.6) a tonne of carbon.
This was significantly lower than other carbon reduction methods such as underground carbon storage.
Improved management would also help create jobs in remote areas.
"The evidence is clear that to secure a healthy future for all Australians, we must cut emissions from the big polluters, put a price on climate pollution and take advantage of all options to store and reduce damaging climate pollution in the outback," Dr Barry Trail, of Pew's Wild Australia programme, said.
Dr Michael Looker, of the Nature Conservancy, said protecting and restoring the Outback would also safeguard an important part of the nation's identity and help reduce the rapid rate of extinction of native plants and animals.
"This new and very important report shows that by taking better care of Australia's Outback, its native plants, woodlands and forests, we have a logical and inexpensive way to cut emissions right in our own back yard," he said.