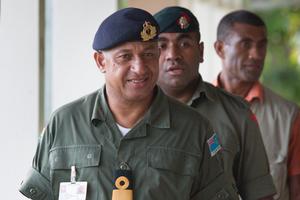 The interim Government in Fiji has expelled Australia's Acting High Commissioner today.
Australian Foreign Minister Stephen Smith described the move as both unjustified and disappointing.
"It is unjustified and unjustifiable, and it is deeply disappointing," Mr Smith told media.
New Zealand Foreign Minister Murray McCully has supported his Australian couterpart and said the expulsion was "counterproductive on almost every level".
The Fiji Times is reporting that Commodore Frank Bainimarama's regime is blaming Australia for "interfering with the internal affairs of Fiji and conducting unfriendly acts".
The Times reported that the Australian High Commissioner Sarah Roberts had undermined the relationship between Fiji and other Pacific Island countries.
Fiji has accused Australia and New Zealand of influencing the Melanesian Spearhead Group (MSG) in its policies towards Fiji.
But Mr McCully rubbished the claims.
"It is deeply insulting to Vanuatu Prime Minister Natapei to suggest that his decision to defer the MSG meeting was made because of pressure from New Zealand and Australia. Prime Minister Natapei needed no help from New Zealand or Australia to work out that democratic principles should prevail within the region.
"Today's move will further diminish Fiji's standing in the eyes of the region and the international community, and further delay any recovery in the Fijian economy.
"It is also a sign that, despite our best efforts, Fiji still does not place much value on the maintenance of diplomatic relations and dialogue as a means of resolving differences," Mr McCully said.
Mr Smith said Australia would not be expelling Fiji's High Commissioner in Canberra.
"If I responded in kind, that would see Fiji unrepresented in Australia, and would effectively see the end of our formal diplomatic contact. I do not want that to occur," Mr Smith said.
"We will continue to seek to have a dialogue with Fiji. We will continue to work both through the Pacific Island Forum and bilaterally to effect that. But a point I've made in the past, the dialogue has to be two-way. You can't have a one-way dialogue," Mr Smith said.
The MSG
The MSG is made up of Melanesian leaders including Vanuatu, Fiji, Papua New Guinea and the Solomon Islands.
Its purpose is trade, exchange of culture, values and to promote sovereign equality. Its goals include economic growth, sustainable development, good governance and security.
It is currently chaired by Vanuatu Prime Minister Natapei who overnight announced the MSG meeting, to be held later this month, would not now go ahead.
The chair of the MSG is on rotation and Fiji was due to take over.
Fiji has been arguing for a new MSG Plus meeting.
This has been opposed by Australia, who fear it could undermine the Pacific Island Leaders Forum.
- NZ Herald staff