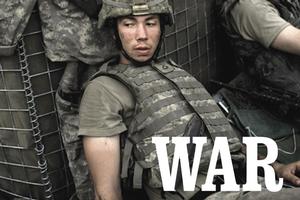 Sebastian Junger has, quite literally, penned his way through some of the world's most vexed issues and zones to become one of America's most renowned foreign correspondents.
Long before he became famous for his 1997 book The Perfect Storm, and well before he became contributing editor to Vanity Fair, Junger was funding his own freelance forays into places like Bosnia, Afghanistan and Kashmir.
Indeed the 48-year-old author and journalist has always maintained that he prefers risky, journalistic assignments in troubled places to writing his famous books, which also include Fire and Death in Belmont.
But that all changed, says Junger, with his new and fourth book, War, which recounts his experiences embedded with United States troops in Afghanistan.
"It was a really very powerful experience, and I felt very plugged into something important, and personal and urgent, and I never felt that writing a book before.
I had only had that feeling while breaking stories that were of some real significance."
Junger spent a total of 14 months in Afghanistan's Korengal valley, site of some of the most intense fighting of the current Afghan war, intermittently embedded with the men of Second Platoon from US Battle company, part of the 173rd Airborne, between 2007 and 2008.
He slept with them, dodged bullets and mortars with them, endured extremes of heat and cold, fear and boredom alongside them in a valley he describes in War as "the Afghanistan of Afghanistan: too remote to conquer, too poor to intimidate, too autonomous to buy off."
His words proved prophetic in April of this year, when, soon after he'd completed both War, and Restrepo, the 2010 Sundance Film Festival's Grand Jury Prize winning documentary he co-directed and co-produced with photographer Tim Hetherington, the US military decided to pull out of the Korengal.
Not that military strategy is the focus of Junger's narrative. From the outset, he says, "I really wanted a non-political book. I wanted to understand the experience of being a soldier in a platoon of combat infantry, and if those guys had sat around talking geopolitics or the rights and wrong of the war, that would have been in the book, but they didn't and so it wasn't."
But the mere fact of this strategic withdrawal, after five harrowing years of conflict and the deaths of countless US soldiers, gives an added poignancy to a narrative which is already being compared to Michael Herr's groundbreaking Vietnam novel, Dispatches.
But War grapples with the intimate details of combat in an altogether different time, place and mindset.
Its adrenalin inducing potency too, is of an altogether different order.
Junger documents the bizarre "blood in blood out" rituals, of the Second platoon - famous for their courage under fire and lack of discipline out of it - and explores the nature of sexual deprivation, courage, boredom and the sheer excitement of war with an almost anthropological zeal.
His meticulous, pared down prose is deliberately unemotional, his occasional riffs more a quest for illumination than lyrical bravado.
Yet the sum of his narrative tears into your consciousness and your preconceptions with something of the stealth and speed of the bullets he describes so vividly, bullets that rip into their human target long before their sound can be heard.
As Junger will happily tell you, he wanted to examine "what it feels like to be in combat, the sort of phenomenology of war, 'How fast do bullets go?' 'What happens in your brain when you are scared?"'
He'll also tell you, just as he does in his narrative, that "war is insanely exciting".
"I feel like it's a bit politically incorrect to suggest that there is anything appealing about war, but the shocking truth is that there is a tremendous amount that's appealing to the people who've been in it, and that's one of the things that is so confusing to soldiers afterwards. If I went through something so terrible, why do I miss it?' And that, to me, is one of the central questions about war, one of the central things that civilians don't want to understand, and that soldiers try but often fail to understand. What was happening out there that was so fulfilling?"
To the extent that people do think about it, he adds, "they write it off as adrenalin rush, and I think that is a very cheap way of explaining it. I think there is a much more profound basis for it. I think it's the sort of intoxication of being needed, of being in a small group where the whole group needs every single person, and every person needs the group. Having a utility and purpose within the small group of people who you love is intoxicating, and when you take it out of that situation, I think everything feels a bit hollow and meaningless, and that's why these guys are kind of torn about it."
Junger admits too, to his own struggles in finding his way into the narrative, and eventually distilled the emotional truth of his experiences into three basic categories, "fear", "killing" and "love", which became the book's organising principle and chapter headings.
"That's what it boiled down to," he says. "But ultimately I was trying to come up with an explanation for how courage works, how it manifests itself neurologically, physically, psychologically, emotionally and socially."
In War, he mixes heart-stopping, gut-wrenching combat scenes with forays into research done on men fighting in previous wars and on evolutionary social groups, and goes so far as to say courage is love, and now says, "I think love is the basis for acts of courage. Courage in that context was acts done to help others. They certainly weren't doing those things out of patriotism or whatever, they were doing it out of concern for other people, and to me that is one of the ultimate definitions of love."
For Junger too, the experience of being embedded with this platoon of men, the size of which fosters love and courage and "plays into our evolutionary heritage," was one of the most profound and rewarding experiences of his life.
"Like a lot of writers, I have always been a bit of a lone wolf. I had never been part of a group, wasn't on the football team at high school, and suddenly I was part of a group that had a very intense purpose in a very isolated place and I think I experienced some of that genetic echo that they were experiencing. Humans are social animals and they are social on a scale of 30 to 50 people and I have never quite had that experience of brotherhood until this. "
Junger has often described himself as an outsider who has spent most of his life "somewhat removed from society."
The son of an artist mother and a physicist father, he spent his twenties writing self-assigned pieces and trying to get them published, paying his way by waiting tables.
He first dreamed of becoming a journalist after a three-month stint living with Navajo Indians in order to write his anthropology thesis on Navajo long-distance runners, and revelled in the process, but says "I wasn't really making a living at it until my mid-30s."
He was already placing articles in magazines when he penned The Perfect Storm, and its subsequent phenomenal success, he says, "was a little disorienting at the time. I sort of took refuge in foreign reporting, in Africa, Kosovo, whatever, where The Perfect Storm couldn't reach me, But I'm fine with it now. Some very good things came to me because of that, and it established me as a writer."
One of those was the educational foundation he set up for the children of fishing families, in Gloucester, home to those he portrayed in The Perfect Storm, which is still going strong.
Another was signing on with Vanity Fair, for whom he's undertaken some of his most risky, groundbreaking assignments, including a recent stint in Nigeria with militant group MEND, one of whom threatened to kill him.
But if others see his as a life defined by risk, he sees risk merely as one element of a writing life defined by an ongoing quest for meaning and relevance.
In any case, two of his books, he reminds me, The Perfect Storm and Death in Belmont, have not involved risk at all.
But be it in his journalism or in his books, he says, "I want to write stuff that gets people to think about things in a different way. I don't want to write a book that is irrelevant, however beautifully written, or for that matter however well it does."
The notion of meaning and meaningfulness is a recurring theme in a conversation with Junger, who says "one of the things the soldiers miss when they come back is that they don't feel meaningful, and I think Western society in all of its affluence and its paranoia about risk, about random circumstance, has stripped life of a certain amount of meaning and intensity.
"The truth is, you can do skydiving and it doesn't necessarily make your life more meaningful, so it isn't just purely a matter of risk. It is something else. I think people long for meaning and a bit of transcendence, maybe.
"Some people find transcendence in having children but there are other ways to do it. For me, writing something that connects with people and becomes meaningful to them, that's my form of transcendence."