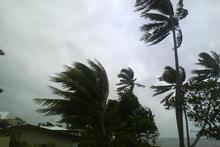 There are unconfirmed reports of deaths in Fiji, as Cyclone Tomas moves through the northern part of the island group.
At least 5,000 people are sheltering in up to 40 evacuation centres ahead of the main force of the cyclone, which is expected to pass close to the capital Suva tomorrow morning.
Disaster Management official Anthony Blake told Newstalk ZB trees were down, power is out in some areas and there are reports of damage to houses and a kindergarten on one of the islands in the far north of the country. Officials are trying to verify the reports of injuries and fatalities.
Cyclone Tomas, with gusts up to 270km/h causing chaotic seas that have already claimed one life, has been called the worst in at least 20 years.
Tourism Fiji said Air New Zealand and V-Australia had cancelled all Fiji services until further notice and Air Pacific said it would postpone flights to Fiji ex-Auckland, Brisbane and Sydney until Tuesday.
More than 100 evacuation centres have been set up throughout Fiji, and police, military, fire services and the Red Cross have been scrambling to get the message out.
Red Cross disaster co-ordinator Vuli Gauna said Fiji had not seen a cyclone so strong get so close in at least 20 years, and people were bracing for the unexpected.
Cyclone Tomas hits Fiji

View Cyclone Tomas hits Fiji in a larger map
People in coastal and low-lying areas had been urged to pack two days of supplies and find shelter in evacuation centres, where they were expected to stay overnight, Mr Gauna said.
More evacuation centres were still getting set up as the category four Cyclone today struck Fiji's second-biggest island, Vanua Levu.
Fiji's Meteorological Service has issued warnings of thunderstorms, phenomenal seas, heavy swells, flooding and destructive hurricane force winds, with gusts up to 270km/h.
First death confirmed
Fiji police confirmed a 31-year old woman had died after huge waves swept her off a beach in Vanua Levu.
The woman was at a beach along Namilamila Bay, Cakaudrove with family members when massive waves swept across the beach and took them out to sea, police said.
After helping young members of her family to scramble ashore, the woman was exhausted and unable to make it back to the beach.
Curfew ahead of storm
Meanwhile, a nationwide curfew in Fiji imposed last night as Cyclone Tomas moved in at 210km/h, was lifted today to allow people to buy emergency supplies.
This morning Cyclone Tomas hit the northern island of Cikobia and other islands in the area.
Towns in Vanua Levu were without electricity, as intense winds battered the Pacific nation.
Fiji Electricity Authority (FEA) said the whole of Savusavu, a major town on southern Vanua Levu, was without electricity last night.
Harsh weather was preventing its workers from attending to repairs, the company said.
Senior forecaster Matt Boterhoven said damaging severe swells would flood low-lying islands.
Eight-metre high waves - higher than a one-storey house - have been reported.
Weather Watch analyst Philip Duncan says as well as being an intense storm, Cyclone Tomas is slow moving, which will cause heavy rain to stay for longer, so flooding is likely.
Mr Duncan believes it could be devastating to a nation that has already had quite a wet summer.
Fijilive.com says authorities have set up evacuation centres, schools have been closed and a nationwide curfew was put in place last night.
Some tourists stay behind
Australian tourist, Clare Melvin, told AAP she was evacuated from her accommodation at Plantation Island on Sunday afternoon.
"They basically said to us, 'If you've got kids, you should go'," said Melvin, who has been holidaying in Fiji with her husband and two small children for a week.
"Everybody just jumped on this big boat and came back (to the mainland) and they just threw our luggage on the ground and we just all had to scramble for it.
"It was ridiculous."
She said of the 120 mostly New Zealand and Australian people staying at Plantation Island, 76 had decided to head back to Nadi and stay at the Raffles Gateway Hotel on Fiji's largest island, Viti Levu.
Those who remained on the island would be huddled together in a conference room.
Melvin said everything in Nadi had been closed and people were preparing for the worst.
"All the Fijians are kind of freaking out themselves, you can tell, cause there's no animals around," the Sydneysider said from her hotel room.
"It's unusually still. It's really weird.
"It's just overcast and kind of dark, but yesterday afternoon the sky was a really strange colour, it was like dark orange and black."
She said women were crying in the hotel lobby and everyone was "pretty scared".
"Everybody's talking about where they're going to hide when it gets here. Do we go in the bathroom? Or do we go in a cupboard?
"We're all pretty freaked out.
"There's people here who are stuck with five children under seven and they've got all their kids in one bed.
"I heard from a lot of Fijians and from the weather (forecast on the news) that they're predicting that this is the worst one Fiji's ever seen."
In other weather news, Cyclone Ului, which is swirling northeast of Australia could bring high seas to Australia's east coast. It is now a category five storm. It is not yet known whether the cyclone will have any impact on New Zealand.
- NEWSTALK ZB and NZPA, WITH NZHERALD STAFF