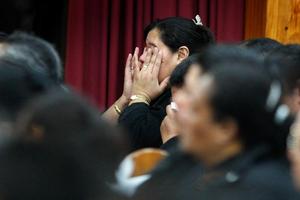 Three months ago, the ferry Princess Ashika sank in heavy seas on an overnight sailing in Tonga.
Seventy-four of those on board died. Two bodies were recovered - the rest went down with the vessel, which remains beneath 110m of water, beyond recovery. Five weeks ago the Samoan tsunami disaster pushed the Tongan ferry tragedy out of the headlines. For this special report Vaimoana Tapaleao talked to the families of ferry victims with ties to New Zealand, so that they would not be forgotten.
Soane Stuart Fa'asolo
40, of Fungamisi
Stuart Fa'asolo probably had the most "palangi" name on the island, according to his aunt Tivise, and yet he never once set foot in the country his name came from.
Ponsonby in the 1950s was a cold and hard reality for a young Tivise Fa'asolo, who was sent to New Zealand to work to help her family in Tonga.
"It was so lonely and so cold. You long for your island and your family. It was so hard being here."
News that her sister-in-law was due to give birth arrived soon after.
She called her brother and said: "If the baby is born a boy, name him Stuart after the street I live on" - Stuart St, off Vermont St in Ponsonby.
The Stuart St story has been told repeatedly at family gatherings. Known as the comedian of the family, her nephew was always special to her, Tivise said, given the link to his name.
"I named him [Stuart] because I never wanted our family to forget the sacrifices we had to make to be prosperous now. And now he has paid the biggest sacrifice, lying on the seabed of Tonga."
Taipe Loto'ahea
56, Feletoa
Taipe Loto'ahea was a proud father of seven children.
The 56-year-old had travelled from the island of Vava'u to the main island, Tongatapu, to watch his youngest son Uluakimano play rugby for Atele College.
The 19-year-old boarded at the school, so it was an exciting day for Taipe to see his son. But that day proved to be the last time he would see any of his children again.
Son Christopher - who lives in Hamilton - said he was heartbroken to hear his father was on the Princess Ashika, given he had planned to spend Christmas in New Zealand.
"Before he died, he rang me - he asked me to sponsor him because he wanted to come for Christmas. I waited to send him the sponsor soon but then this happened. I miss him."
Taipe Loto'ahea had recently worked as a farmer in Hamilton before returning to Tonga, where he was a teacher and village officer in Vava'u.
Katalimoni Finau Moala
47, Kapa
Katalimoni Moala's wife believes her husband died as he had lived - putting his life before others.
Sergeant Moala was returning to the island of Vava'u after accompanying two prisoners to Nuku'alofa.
He was due to fly to New Zealand in September, to be with his wife and two daughters who have already settled here, she said.
"He called me on Tuesday and said he was going to fly back to Vava'u. So when I saw the ferry news [the next day], I didn't think about it because I knew Limoni was on the plane."
Katalimoni had indeed gone to buy a ticket, but on arrival found that the flight to Vava'u was fully booked, so opted to travel by ferry instead.
"He was so brave - a loving man, and a strong man. That's why when I heard that he died, I thought: 'He died doing his job, helping the others'."
"When my 4-year-old daughter asks: 'Where's my daddy?' I tell her that her daddy is sleeping. She goes around telling the kids: 'Quiet! My daddy's sleeping'."
Tahila Hala
41, Tatakamotonga
Tahila Hala was returning to her village in Ha'apai a very happy woman.
She had sold all the tapa cloth she had made to sell at the Nuku'alofa markets, and made enough money for her teenage son's school fees and the church donation that week.
Relative Pita Hala - who lives in Auckland - remembers her fondly.
"She's a hard person to forget. The last time I saw her was when we went to Tonga two years ago. They saw us off and I can still remember her smiling."
Tahila sold hand-made crafts at local markets to pay for her three childrens' school fees.
She is survived by her husband Fatongi and three children: Alu, Vasi and Kafoatu.
Salesi Havili Kaufusi
26, Ha'ateiho
Rugby was one of Salesi Kaufusi's greatest passions.
The 26-year-old was a well-known face in rugby circles in Tonga, representing the country during his school days and later on as an adult.
In 2000, he arrived in Auckland as part of the Tongan Secondary Schools team, which took on the New Zealand Secondary Schools team at Eden Park.
Friend Semisi Kaufusi said "Lesi" was a friendly face and popular guy while at Tonga College.
"He was a good man - he's a funny man. He loved his rugby. I heard he just got a contract in Ireland."
Having gone through the grades as a member of the Spartan Rugby Club, a young Salesi Kaufusi was soon playing international rugby in the Tongan sevens team and as a winger for the Tau'uta Reds team.
Semisi Kaufusi said his old friend would have had big plans to play in the Rugby World Cup in 2011.
"It's sad, you know. He could've done good. Just sad."
Neti Vave and Siosifa Taufahema
30 and 28, Nautoka
Cousins Neti Vave and Siosifa Taufahema travelled on the Princess Ashika countless times just to go for a ride.
Neti's father and Sifa's mother are brother and sister and so the two cousins had always been close, growing up in the village of Nautoka on the island of Tongatapu.
The pair had friends who were members of the ship's crew, so whenever they were near the wharf, the cousins' friends would yell out for them to come along for the journey.
Titiuti Vave, of Auckland, said his family was devastated to lose two of its members.
"Neti went on that trip many, many times. This time he went with Sifa and they both died. It was very sad for us."
Titiuti said he remembered a young Neti approaching him about driving lessons.
"He was not really good," Tititui laughs. "But he ended up being a bus driver. He was a good boy, a quiet boy."
Sisiliah Rachelmana Puleheloto
23, Niue
Having arrived in Tonga for the first time, Sisiliah Puleheloto wanted to go sightseeing.
The 23-year-old New Zealand citizen was a police officer for the Niue Police Force, serving in the Solomon Islands.
Taking leave from work, she had arrived excitedly in Tonga on August 3 to visit family members.
She boarded the Princess Ashika with her cousin Dwenelle Luani, 25, who went along with his cousin in case she got seasick, he told Sunday News.
He had just stepped out of the passenger cabin, where his cousin stayed, to go to the upper deck for a cigarette.
As the ship lurched abruptly to one side, Dwenelle made a last minute effort to get to Sisiliah to save her.
"I just couldn't do anything... I couldn't walk and all I could do was hold on to a chair on the deck.
"I saw her - she was gripping to a chair inside."
At a service held in the Solomon Islands, where she had been working under the Regional Assistance Mission to the Solomon Islands scheme, co-ordinator Graeme Wilson said "Sisi" was a cheerful person who worked hard for the community.
"Sadly, the beautiful Sisi will not be returning to us, but she will live on forever in the hearts of those who knew her."
Mele Mateitalo Palanite
31, of Longomapu
Semisi James Newton Lavulavu
4, of Talau
Little James Lavulavu adored his aunty Mele and often followed her around the house and wherever she went.
So when she made plans to head to the island of Tongatapu to visit family, it was hard not to take her nephew along also.
The pair had been in Nuku'alofa for a few days before James' mother - Mele's sister - and father called for the pair to return home early as they missed their youngest son.
On arrival at the wharf, Mele booked two tickets on the ferry she usually took: the MV Pulupaki.
But another ship was due to leave and on seeing that it was the new ferry from Fiji, Mele transferred their tickets and hauled their luggage off the Pulupaki and on to the Princess Ashika.
Auckland relative Taani Lavulavu said: "James' father was devastated. He didn't know they had changed their tickets - until they announced the names of the missing."
Taani Lavulavu said Mele was not married but loved her nephews and spoiled them.
Four-year-old James, the youngest of Tuipolotu and Vini Lavulavu's four sons, was known as the "little minister" of the family.
"He loved Sunday School. At the children's service, so many of the children are shy and cry. But James, he was so keen - very loud and keen to sing his hymn on the stage. Everyone said he would grow up to be a reverend minister."
Families in New Zealand and Tonga remembered the two at the mass memorials held in Tonga and in Auckland.
Daniel MacMillan
47, Scotland
Danny MacMillan wanted to get away from the chilly Christchurch weather and had saved up for over a year for a holiday in Tonga.
He gained a Bachelor of Science degree and a Master in Experimental Biology at The University of Aberdeen, before moving to New Zealand in 1992.
On his arrival, he worked in Palmerston North, looking at the invitro fertilisation of cattle and in later years, gained a diploma in Rehabilitation from Massey University.
For years he was a well-known face at the Christchurch City Mission, where he was the volunteer cook at the men's night shelter facility.
Jan Spence, of the Christchurch City Mission, said Daniel had overcome alcohol addiction which had been another reason for his holiday in Tonga. "He was pleased to be free from his addiction at this time," she said.
Known to many as Danny or Dan, he touched the lives of people who had come through the city mission over the years.
"We all miss his cheery smile, gentle humour and his intellectual conversation."
Daniel was one of only two people recovered from the Princess Ashika tragedy. He was identified by the New Zealand driver's licence in his pocket.
Liliani Filiai
53, Mangia
Standing on the deck of the Princess Ashika waving goodbye to her husband, Liliani Filiai yelled out to him: "If I die, will you marry again?"
What was a joke at the time, Liliani's words now ring loudly in her husband's ears.
Relative Alosi Moala said Liliani's husband, Afuhia Filiai, now keeps to himself.
"At the time, it was funny. Everybody at the wharf was laughing - because they all know Liliani, she always makes funny [remarks]. Her husband just stand there and laugh, don't say anything back to her.
"But when [the sinking] happened, he was shocked."
Liliani and her husband ran a business selling hand-made crafts and pearls to tourists.
A special memorial service was held for Liliani, who leaves behind her husband and three children.
Alosi Moala said: "When we had family meetings, she always makes fun of us and we all laugh. We will miss her at our family meetings."
Lavinia Fehoko Lavaka
53, Ha'afeva
Lavinia Lavaka's screams to her son: "Siaosi, help me!" still ring loudly in his ears, months after the night his mother died.
Siaosi Lavaka was one of 53 people rescued in the early hours of August 6 - around two hours after the Princess Ashika went down at about 11pm.
But sitting in his sister's South Auckland home, Siaosi said he wished every day that it was him who had died, instead of their mother.
"Our mum asked me to go check our things. I went and came back to her. She told me to go check our other things - it was the second time that I came out and the boat went sideways.
"She yelled out to me twice: 'Siaosi, help me!' but I couldn't do anything. She saved my life."
Lavinia Lavaka was a happy woman who weaved fine mats and made tapacloth for a living.
A mother of nine, she had two children living in New Zealand and often travelled to see her grandchildren.
She is survived by her husband 'Aleki, nine children and grandchildren.
Siuta Nikolasi Senituli Fe'ao
23, Ha'ato'u
Siuta Fe'ao, a plumber from Ha'ato'u, was on his way to the islands of Ha'afeva and Lofanga to help install a new water supply system.
Under the Japanese Water Project, he was travelling with co-workers Viliami Latu Mohenoa and Pau Tupou - who was also his cousin.
Pau Tupou managed to get off the ship before it sank, but his younger cousin, 23-year-old Siuta, was not so lucky.
The pair, whose family in New Zealand live in Mangere in South Auckland, were in a lounge with Viliami Latu Mohenoa watching a movie when Pau Tupou noticed water seeping under a door, he told the Herald two days after the tragedy.
Thinking nothing of it, he and Viliami went out on to the stern for a cigarette. Things quickly turned bad when a massive wave struck the ferry and it overturned.
Pau Tupou rushed to his cousin, but it was too late.
"I was shouting, shouting out for my cousin, calling out his name. [But] I didn't hear anyone answer my call," he said.
"When I got in the [life]boat, I started crying."
Mele Talakai and Mele Jnr
46 and 2, Puke
To-e-po-'i-Pouono Talakai
5, Puke
Mele Talakai loved children and was one of the more well-known "aunties" to all the children of the village of Puke.
The 46-year-old was on board the Princess Ashika with her two daughters, 5-year-old To-e-po-'i-Pouono and 2-year-old Mele jnr, when it sank on August 5.
Sela Talakai, who lives in Mangere, said her family was shocked when news that three members of their family were among the dead.
"I was so sad. Aunty Mele was a really nice lady. She lived not far from us in Tonga and every time we walked past her house, she'd call out to us to come inside and have something to eat.
"She was so loving."
Sela Talakai said although it was a tragedy, it was somewhat of a comfort knowing that her relatives had been together.
"I never met [her kids] but Mele - she loved all children.
"When we went over to Tonga, she would gift us with a ta'ovala to welcome us home. That's what she's like. I will miss seeing her."
Eva Aisea and Lisiate Tovo Aisea
24 and 25, Uiha
Brothers Eva and Lisiate were on their way to work on the family plantation, on Kao Island, when the Princess Ashika went down.
Family members in South Auckland remember both men as hard workers who enjoyed caring for their family.
Lisiate - the elder of the two - was a radio DJ who worked hard at his job, knowing it went towards caring for his family.
"He was the one that cared about his job and taking care of his family," a family member said.
Eva, known as a "kick back" kind of guy, worked hard on the family plantation.
"He was funny and was really hard working. He used to plant kava and sell it. They were good guys."
The two brothers were remembered by family members at the mass memorial service held near Ha'apai, where the ship went down.
Senileva Pole and Tatisi Mafi,
52 and 25, of Ha'ateiho
Sekona Mafi
1-year-old, Matuku
Liku Toki Pole still remembers his "beautiful and brainy" niece Tatisi coming home with first prize certificates and awards from school.
Speaking from his Auckland home, Liku said it was a shock to find out that his young niece and her 1-year-old son Sekona and 52-year-old mother Senileva were among those killed in the ferry tragedy.
"Tatisi was so clever when she was at school. She always got the scholarships and came first in her class," Liku said.
"Beautiful, kind, honest and loving. She was a good girl."
Liku said Tatisi's mother, Senileva, was always "so positive and strong" especially through tough times the family faced.
He said he had not met his young nephew, Sekona, who was named after Tatisi's brother.
"Such a big waste. All of them - especially the boy and Tatisi - were very young.
"They had more to live for."
Liku said their family in New Zealand had held prayer vigils and a special memorial service in the islands, in memory of the three.
Paea 'i Faua Kanongata'a and Barsin 'Ela Kanongata'a
39 and 9, of Fotuha'a
Manurewa pastor Sione Maile Kanongata'a believes the Princess Ashika should not have been allowed to sail - given its shabby condition - and justice should be brought to those who turned a blind eye to it.
Sione Kanongata'a, who has lived in New Zealand for over 20 years, lost two relatives in the disaster: 39-year-old Paea 'i Faua and her nine-year-old daughter Barsin 'Ela.
He said he had personally seen the Princess Ashika ferry, while in Fiji, and was later surprised to learn that it had been bought by Tongan authorities.
"I couldn't believe it. You could see that it was not in good shape. In Fiji, it was being used just between small islands.
"In Tonga, between those islands, it's very rough and it takes the whole night and day to go there. This ship should not have been doing those trips."
He said authorities had failed the Tongan people.
"The main priority should be to look after the people and they didn't do that. All those lives were lost because of it."
Simaima Lavemai
41, Mataika
Simaima Lavemai travelled to New Zealand several times in the past few years, as she worked to set up her family's first big reunion.
The 41-year-old from the village of Mataika was the youngest daughter of Vilea and Sitani's 12 children.
Her family in Mangere said she had been in the process of putting together the family's first reunion in Tonga, when she died.
Her nephew Viliami Lavemai said: "She came to New Zealand every year and last year, she came to visit all of us and said she wanted to put together a family reunion."
Tonga Defence Services Staff Sergeant Simaima Lavemai had only just left the army about a year ago, he said.
Sergeant Lavemai had a young son aged about 4 years old named Kava - known to all as "her everything," Viliami said.
She had gone to Nuku'alofa for a church celebration and wanted to specifically return on the Princess Ashika because it was the new ferry from Fiji, he said.
Family members from Australia, New Zealand and America arrived in Tonga to say goodbye to Simaima and also decided to hold a family reunion in 2011 in her honour.
"She had so many dreams for the family. She always wanted everyone to be close. We want to make sure her dream comes true."
* * *
THREE LIVES
Tapuaki Malia Mailangi: "A girl with a beautiful smile and a beautiful heart."
That is how Tapuaki Msalia Mailangi is remembered by her old high school friend, Malia Puluno.
Msalia, 23, was on the Princess Ashika with her mother, 'Atelete, and younger brother Paula. All three died when the ship sank.
Malia - who now lives in South Auckland - first met Tapuaki at Chanel College on the island of Vava'u.
"She was always smiling. She played netball, she was good at sprinting, good at teamwork and she enjoyed her friends. Everybody liked her and I still remember her pretty smile."
Tapuaki was later chosen as the college's head girl.
"She deserved it. She loved everyone and did good to everyone," Malia said.
"I couldn't believe it when they ran the news and I saw her picture. I still remembered her beautiful smile and heart."
Paula Apositolo Mailangi: A surprise 21st birthday trip to New Zealand was being planned for Paula Mailangi, who was to reach the milestone in August next year.
Eldest sister Elisapeta 'Ofa - who lives in Christchurch - was preparing to bring her youngest brother over, as a special birthday gift to him.
The youngest of 12 children, he was affectionately known as the "spoilt baby" of the family, Elisapeta said.
"Everybody loved Paula...we all spoiled him."
Paula, who had Down syndrome, learned to play the piano by listening to songs and figuring out how to play them on his keyboard.
"Oh, he loved his music," Elisapeta said.
"The two things Paula ever asked for was bread and butter - he had to have that every day - and batteries for his keyboard."
'Atelete Mailangi: She was a mother of 12, known as an entertainer, both within her family and in her village of Feletoa on the island of Vava'u.
"If there was anything on - different celebration - she's always that person there that likes to make everybody laugh," recalled her eldest daughter Elisapeta.
In August Elisapeta, who lives in Christchurch, went back to Tonga after news that her mother, brother and sister were among the missing.
"It was hard. I had to go back for my dad because he lost his companion - our mum," Elisapeta said.
'Atelete's husband, Sosefa Siketi Mailangi, now spends his time in the family plantation where the couple worked.
"He doesn't spend too long out there because it brings back too many memories. It's a great loss for him and it's still very fresh."
* * *
THE THREE SIONES
Sione Valele 'Elone boarded the Princess Ashika heading for what was meant to be one of the most memorable days of his life - his wedding day.
The 43-year-old was on board with his best man and younger cousin, going to the island of Ha'apai to marry his fiance, Vahengalu He.
A small and intimate wedding was planned for the weekend, but instead, his family and bride-to-be were soon planning a funeral.
Older brother Elvis travelled to Tonga from New Zealand when news of the sinking broke.
"I was on my way to work on Thursday morning, and listening to the radio, and that's when I heard about the ferry.
"Actually, I thought he was already there in Ha'apai. Another one of our brothers - he [kept] ringing on his mobile phone, but it just kept ringing, no answer.
"He rang the island to check to see if he took the boat that sunk and they confirmed he was on the boat with [our cousin] Sione Veuveuso and his best man, Sione."
Sione Valele was a well-known member of the Tongan Anglican church and often travelled to New Zealand.
In 2003, he was among a youth group that came to fellowship with other Anglican youth groups in Onehunga in Auckland.
He was the third eldest in his family; his elderly mother and two sisters attend the Holy Trinity church in Otahuhu.
"He was a quiet fella, very kind and quiet and could be funny sometimes. He never stood up to be the boss, but always looked after our younger ones first," Elvis said.
"I hope the Government does something for the families. See Sione Valele - he was to get married. He was going to his wedding, but now, that's not going to happen."
Sione Aho was to be the best man. The 29-year-old was remembered in North Otago as a rugby player, good enough to play for North Otago in the Air NZ Cup 3rd division in 2007. Days after the ferry tragedy, his old teammates paid tribute to the footballer at a match against South Canterbury, bowing their heads for a minute's silence.
Cousin Loti Aho, 29, described him as "a man of few words" that would be sorely missed.
The other member of the wedding party lost with the ship was Sione Veuveuso 'Elone.
Aged 34, he was chosen to bear witness to cousin Sione Valele's marriage.
The first cousins were often referred to by their middle names: Valele and Veuveuso.
A lay minister for the All Saints church, Sione Veuveuso was also a choirmaster and the devoted husband of Sharon.
Elvis Elone paid tribute to his younger cousin: "He was alright - funny guy, him."
"Out of those three, he left behind a wife and two young boys so it's very sad."