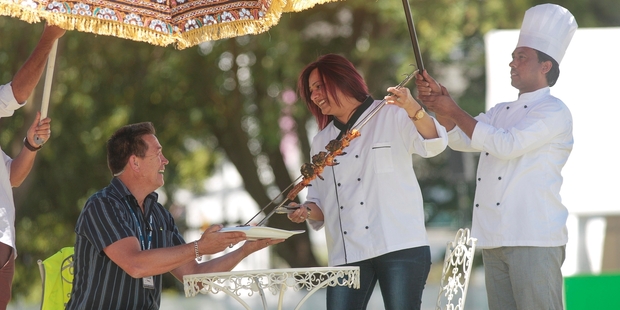 Zero-waste cooking, local produce, casual dining and gourmet meatballs are tipped to be the flavours of the year at the fifth annual Taste of Auckland festival starting this evening.
Tasting plates from 11 of the city's finest restaurants, a Mad Hatter's tea party, live cooking demonstrations and boutique market stalls are among highlights of the four-day event that will showcase the industry's most acclaimed professionals and epicurean delights.
Described as a "foodies' dream" the festival promises nothing run-of-the-mill and crowds of 25,000 are expected at the Victoria Park venue.
Co-organiser Rob Elliot said each of the 130 participants were invited on their merits as industry leaders, and this year he was noticing a trend towards local and sustainable practices.
"In the world of food we are increasingly seeing a move towards local produce, fresh produce and I think that is largely being driven by the largest names in the world in the restaurant scene."
Australian "eco-warrior chef" Matt Stone was giving presentations about his zero-waste techniques, and local chefs were embracing similar practices, he said.
Nick Honeyman of Everybody's Izakaya and The Commons was gearing up to serve 7000 dishes using ingredients such as New Zealand salmon and "foraged" greens.
"This year the trend is definitely on fresher ingredients, a lot of farm-to-plate style ingredients and people doing their own foraging looking for interesting leaves and flowers."
MasterChef winner and nutritionist Nadia Lim is also appearing at the festival to demonstrate easy, no-waste Christmas ideas.
Celebrated chef Ben Bayly will serve dishes from The Grove and new restaurant Baduzzi - where his meatballs were making waves.
Recommended by self-described foodie Oliver Driver as among his top festival picks, they are made from wagyu beef and crayfish and Mr Bayly says they play into the growing popularity of casual dining.
"I never thought after working 10 years in Michelin Star restaurants I would be making meatballs - they are essentially a fine-dining dish that has been put through a mincer.
"Fine dining is still popular but I think sometimes people want to have a casual experience with less rules," he said.
Whet your appetite
What's Hot
• Farm-to-plate meals local ingredients picked by the chef
• Casual dining fine-dining flavours, no pretentious rules
• Zero-waste cooking sustainably and with no left-overs
What you can expect to see
• Mexican cuisine the craze that won't quit
• Christmas inspiration ideas and tips for festive feasts
• Free cooking lessons live demonstrations by world-leading chefs
What you won't find
• Hot chips - it's boutique, artisan and fine-dining only
• One big meal - sample lots of the small plates on offer
• Something you have seen before - it's a "foodie's dream'' of new flavours
Festival hours
• Today - 5.30pm to 9.30pm
• Tomorrow - 12pm to 4pm and 5.30pm to 9.30pm
• Saturday - 12pm to 4pm and 5.30pm-9.30pm
Sunday - 12pm to 5pm
Ticket prices
• General admission - children $15 and adults $25 + $7 for a wine glass
• Premium - $62.50 + $7 wine glass (includes $40 of Crowns)
• VIP - $95 (includes $30 of Crowns, private facilities and priority entry)
• Currency - 2 Crowns = $2
Full timetables and ticket info at www.tasteofauckland.co.nz