Tonight MasterChef fans will see the remaining eight contestants battle it out in Fiji. Joanne Carroll tagged along to see what happened behind the scenes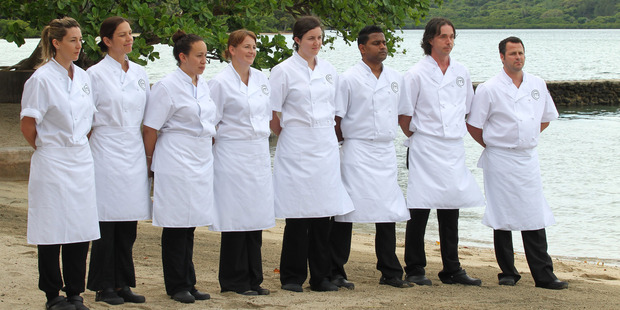 It's been a long road through a hot kitchen to get to the overseas challenge of the latest MasterChef series, but the remaining eight cooks probably didn't think their chances of winning would come down to the results of a crab race.
The night before their challenge at Dolphin Island Resort in Fiji, the cooks were rounded up and presented with eight live crabs to choose from. The aim wasn't to prepare them for eating, but to get them in position to win a race to be first out of a circle in the sand.
The owner of the winning crab would go last in the next day's challenge, giving them more time to plan and prepare their dish. The owner of the loser would go first.
After much whooping and hollering, and a bit of cheating from a Jandal-pusher (overlooked by judge Josh Emett), Vanessa was deemed the winner. Aaron's crab staged a strike and didn't move at all, so he lost.
And so began the overseas experience of the latest crop of MasterChef contestants. After 10 weeks of gruelling challenges, Aaron Brunet, Eliott Brookes, Jennis Hayes, Kelly Kaihea, Paula Saengthian-Ngam, Sushil Ravikumar, Ella Krauts and Vanessa Baxter had made it through. They were buzzing with excitement as they boarded the Jetstar flight earlier that day, but you could also sense the competition was getting serious. Some were reading cookbooks, and I spotted Brunet writing notes and menu plans in a hardback notebook. For each of them the finish line is in sight, and each of them really wants to win.
Besides that, they seem to get along well, and have become a tight-knit group.
On landing we were whisked off to the paradise that is Dolphin Island, which would put anyone in a good mood.
Dolphin Island is owned by the same company that owns Huka Lodge. It is a 5.6ha private luxury retreat that accommodates no more than eight guests at a time. The MasterChef contestants were brought to the island by float plane from Nadi International Airport and settled into their beautiful bure suites by island host Dawn Simpson.
As the sun went down, they were welcomed with a traditional Fijian dance and fire show.
After the excitement of the crab race, the guests enjoyed a delicious lovo, or Fijian hangi.
There was whole fish served with chicken, vegetables and palusami, a traditional dish made with corned beef and coconut cream. The judges ate at the main bure, which has a palm-thatched roof, Pacific-inspired table settings and comfortable decor. The contestants enjoyed some wine and some even had a dip in the lap pool after dinner.
The next morning, the challenge began.
Long boats turned up at the island early carrying fresh local produce such as taro, mango, papaya, pineapple, coconut and seafood, including barracuda, coral trout and crab.
The contestants had only a few minutes to grab what they could and then each had an hour to create a dish fit for guests at Dolphin Island.
The judges were set up on the beach and each contestant carried their dish from the kitchen to the judges' table (judge Simon Gault was unable to go to Fiji so Rudy Crane from Huka Lodge stepped in to help critique).
Sushil Ravikumar was slammed by Emett for cooking another curry, his fourth in the competition.
"A curry got you to here and you come to Fiji and cook another curry. How is this curry different?," demanded Emett. "I'm beginning to wonder if this is all you can cook. This better be the best curry ever. It's going to be the last curry you cook in this competition."
Ray McVinnie was more kind, saying he loves eating curry in hot climates and would simply judge what was put in front of him.
Between tastings, I had a few minutes with the judges. McVinnie said the contestants had done extremely well so far.
"We're halfway through the competiton. This year the quality of the contestants is outstanding. They can cook. They have been watching previous series and especially in the last few episodes these guys are just learning so much," he said.
"It's all about the food. I can tell these contestants love cooking and love food. It's all they talk about. I'm looking for someone who understands food. If they understand food, it will come out in their dish.
"Fiji is fantastic. We went to the markets to see the wonderful fresh produce and beautiful fish, then had it all brought to Dolphin Island on long boats. It was so colourful. The food here is amazing so it's really interesting to see what the contestants have created," he says.
Emett said the judges have had to eat some "doozies" this season but other dishes were top notch.
"If something is good I just can't stop eating it. I can't just have a spoonful and leave it at that. There have been some great dishes where I have thought 'I want to eat all of this'," he said.
"It's been good this year. There have been some treats for us along the way. The fact that we got to come out here was a treat for all of us," he said.
In previous episodes, Gault has called Brunet a rock star and a genius. Brunet has consistently wowed the judges and blitzed challenges every week.
The 42-year-old from Raglan is modest about his skills, saying his wife had to convince him to enter.
"My wife did encourage me a lot last year when we were watching TV. She asked me the questions on the application form and filled it in for me. I'm into cooking at home for my family and wanted to be more professional, so this is a good challenge," said Brunet.
He said he made the most of being on the beautiful island by getting up at 4am for a swim.
"It has been amazing to be here. It's the most incredibly luxurious island. I have a beautiful room but I wanted to make the most of being here so got up early. It was great. You get used to a bit less sleep."
Brunet said he gets on well with the other contestants and the judges.
"They're great, really nice. We have been living and breathing this competition for two months."
He loved the challenge of cooking at Dolphin Island. "I didn't have time to get nervous. We had Huka Lodge's chef Michel Louws in the kitchen. He's worked in restaurants with three Michelin stars and having him here to help was great," he said.
Louws oversaw the contestants in the kitchen and judged them on their performance; his score was combined with the judges' score for each contestant's overall mark. Louws said he was impressed with the contestants, and one was so good that a trainee position at Huka Lodge was offered. You'll have to watch tonight's episode to find out who.
As for the other contestants, who knows?
Last season, contestant Brenton Thornton didn't win but scored a a 12-month apprenticeship with judge Gault, leading to a full-time job at Gault's waterfront restaurant Fish. Maybe this year another contestant will walk away with a job, one that doesn't depend on the outcome of a crab race.

The Fiji special of MasterChef screens tonight on TV One at 7.30pm.