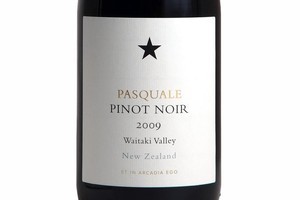 How does a doctor of philosophy from a family of merchants in Venice finish up living in the Bay of Islands and growing grapes and making wine in South Canterbury?
Italian Antonio Pasquale arrived in New Zealand in 1996, speaking no English.
"Part of my learning of the language was watching television news and listening to radio broadcasts so I got up to speed fairly quickly," he says. "I came here for the quality of life, not to make money."
Just as well, because the wine industry, especially for smaller players, is not exactly a licence to print the folding stuff.
"I had to re-invent myself so I bought a sawmill, then a quarry, got involved in farming and now wine. I'm a classic example of over-commitment."
Pasquale is very Italian, with lots of effusive enthusiasm, big arm gestures and twinkling eyes. "We need to understand the importance of the table ... food and wine. The sharing of food is the moment of peace, it's when you leave the guns outside.
Wine is complementary to the food and the sharing of food is a fundamental part of Christianity. It's hard to be angry with your neighbour while sharing a meal."
This is the philosopher speaking and the same zeal extends to his winemaking.
Pasquale has grapes planted using the same clones in the Waitaki Valley as well at Hakataramea, both in South Canterbury, and enjoys the different expression of flavours from the two distinctive terroirs.
From the Waitaki Valley comes pinot noir, pinot gris, riesling, arneis, gewurztraminer and pinot grigio, while the Hakataramea Valley produces predominantly pinot noir. Pasquale's arneis has all been purchased by two of Sydney's finest dining establishments, Aria and Otto.
Waitaki's pinot is slightly sweeter, lighter and more of a food wine. Says Pasquale, "I don't mind sweet wine but it has to have astringency and minerality."
Next year there will be a viognier, but you get the impression that it's the pinot noir that is the current darling.
Pasquale enjoys living in Russell, being a keen sailor, but a lot of his time is spent in the southern climes. "Because I'm a highly opinionated man, I need to be in a small town, I can do little damage there."
Recommended
2009 Pasquale Pinot Noir, $50
From the lime soils of the Hakataramea and described by Antonio Pasquale as "a meditation wine with chocolate mousse without sugar" or "very serious and distant". Either way, it's a beauty. Very savoury, with flavours of burnt tobacco and dried herbs.
2010 Pasquale Gewurztraminer, $30
A stunning wine from the Waitaki site, it's not overly strident and has an inviting mellowness. Starts sweetish then has flavours of lime and rosewater, with oodles of minerality and a slightly bitter finish. A mercurial wine.