Key Points:
More than 14,000 without power across the lower half of the North Island
Main highways remain closed by snow across the central North Island
Snow to keep falling across the Central Plateau and Hawke's Bay today
Rain and gales expected to lash central and eastern regions
Four trampers missing in the Tararua Ranges are safe and well
Another group stranded by a swollen river in the Rimutaka Forest Park walks out
Operation under way to ferry food to hundreds trapped in mountain resorts
1.36pm Central Plateau
State Highway 4 has reopened, but only between National Park Village and Taumarunui.
1.05pm Centrlal Plateau State Highway 46 from Rangipo to Papakai and State Highway 47, which connects Tongariro with National Park Village, have been reopened.
12.50pm Auckland The final visitors stranded on Tiritiri Matangi Island have been taken off the gulf island by water taxi after spending an unscheduled two nights there because of wild seas.
12.45pm Central Plateau Hikers and climbers who venture up Mts Ruapehu, Tongariro and Ngauruhoe this weekend are being warned to be aware of hidden alpine hazards. The Department of Conservation says the snowstorm would have left a number of risks including avalanches, thinly covered crevasses and thin ice. There was also a danger of covered holes concealing volcanic gas.
DOC technical advisor Dr Harry Keys said people doing the Tongariro Alpine Crossing needed to be fully equipped with appropriate clothing and gear.
12.25pm Hawke's Bay The MetService has issued fresh road snowfall warnings for the Desert Rd and Napier-Taupo Rd and snow is expected until 10pm. A severe weather warning has been issued for Hawke's Bay where more snow is falling on the ranges until mid-afternoon. Another 5 to 10cm are likely above 800m.
MetService warns heavy rain and southerly gales are also expected about Hawke's Bay north of Napier, Gisborne, the eastern ranges of Bay of Plenty and Taupo.
12.05pm Wellington Two tramping parties at the centre of rescue operations have walked safely out of the ranges this morning.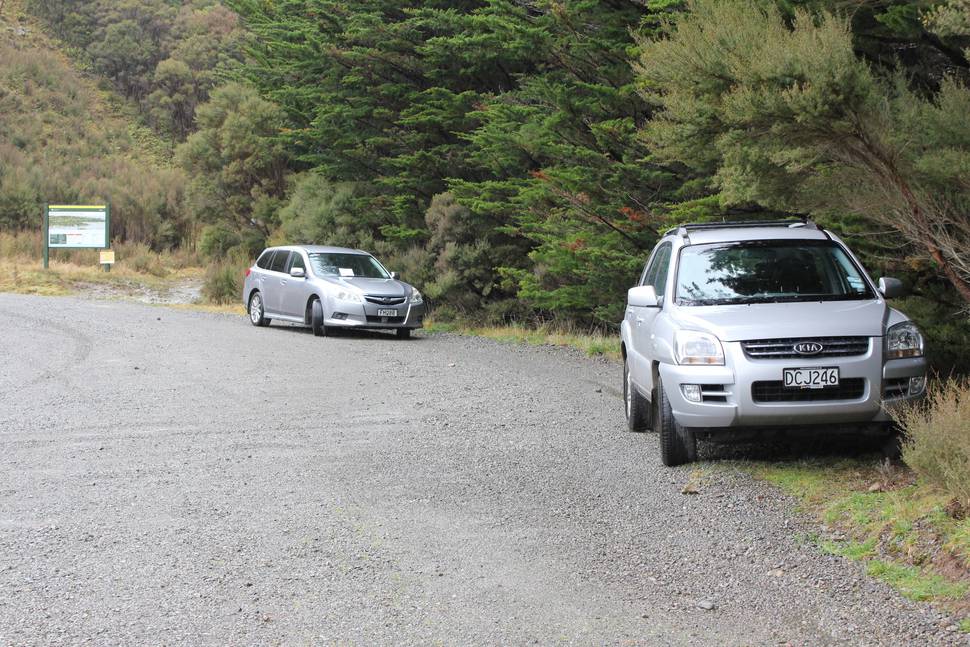 Police say the party of four trampers missing in the hills near Eketahuna were held up because of the conditions. The second group who spent the night near a swollen river decided to abandon their vehicles and walked out of the Rimutaka Forest Park.
Noon New Zealand The rain and snow continue to pummel the North Island but further south the clouds have parted to reveal fresh snow blanketing the Southern Alps.
11.35am Wellington
Despite the worst of the weather hitting the capital yesterday rain is causing fresh problems this morning.
Power is out to thousands, scores of holidaymakers are stranded and two tramping parties are in trouble as wild weather continues to cause havoc across the North Island.
Rain, gales and snow have plunged central and eastern areas into a frozen wonderland as the 4-day-old storm unleashes its final sting.
Trucks have been abandoned on snowbound major highways across the North Island's Central Plateau as drivers take refuge in pubs until the storm clears.
About 500 holidaymakers are snowed-in at the Skotel Alpine Resort and Chateau Tongariro in what locals are describing as the worst snow in two decades.
A major operation is under way to bring in pallets of food as it becomes increasingly unlikely anyone will be able to leave the region today.
Welfare centres have been set up across the Ruapehu district for those caught out by the wintry blast.
This morning more than 10,000 Powerco customers were without power across the lower half of the North Island. A further 4000 in Wellington were unexpectedly plunged into darkness this morning.
Crews were starting the monumental task of repairing lines across the Powerco network, which had suffered widespread damage to poles and lines.
Electricity was expected to be restored to most by the end of the day, but Powerco Network operations manager Phil Marsh said some households in Taihape, Waiouru and Raetihi might not be connected until Monday.
"The reality is there may be some extra rural customers that we still going to struggle to get back on and that's mostly because of access - snow or blocked roads or slips," said Marsh.
"It will be more than two days."
In one area 10 poles had been smashed by the sheer weight of heavy snow.
Power was suddenly cut to more than 4000 households across Wellington this morning forcing school holiday programmes to be abandoned.
In the lower North Island a party of four had not returned as planned from a tramp to the Cattle Ridge Hut in the Tararua Ranges. At this stage bad conditions had prevented a search party from entering the area.
A second group of four families had become stranded crossing a swollen river in the Rimutaka Forest Park.
Half the group had managed to walk out of the forest park yesterday but half remained with their vehicles.
It was relief for a group of visitors who spent an unscheduled night on Tiritiri Matangi Island in Auckland's Hauraki Gulf after ferries cancelled sailings.
Water taxis had made the first of two trips to get the stranded visitors off the island this morning.