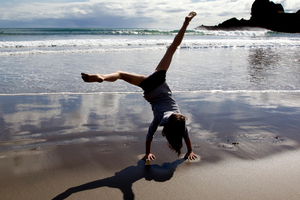 Welcome to summer. Yeah right.
The first week of the season gets off to a grotty start for most - with a silver lining in the clouds.
WeatherWatch head weather analyst Philip Duncan said a big storm deep in the Southern Ocean, about 1000km south of New Zealand, was waiting to make its presence felt. But to the north, a big high pressure system lurked.
Duncan expected rain to move up the country's western fringes today, with heavy rainfall possible on the North Island's west coast by this afternoon. "It's a rough day wind-wise, very windy through the central North Island."
Eastern parts of both islands could be very windy. "It's not a day to go out on your boat or be walking near trees," Duncan said.
However, sheltered eastern areas offered a chance to escape the lashing, and the capital could escape some of the gusts likely to hit Hawke's Bay and Wairarapa today.
Hawke's Bay and Canterbury could be warm, with temperatures in the high 20s in sheltered areas.