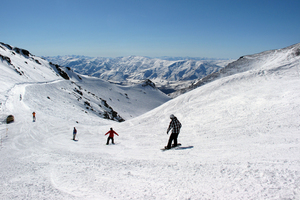 Ski fields around the country are confident plenty of snow is on its way, despite a largely settled Autumn so far.
Work on South Island slopes, including Coronet Peak, The Remarkables and Mt Hutt has been non-stop over the summer months as they add new runs and carry out maintenance.
And while it's too early to predict when the snow will arrive on the Southern Alps and in what quantities, the ski fields' owners are hoping it comes sooner rather than later.
Last year, the snow was late in coming, and in an industry entirely dependent on the weather, it can spell bad news economically.
Craig Douglas, sales and marketing manager for NZ Ski Ltd, which runs Mt Hutt, Coronet Peak and The Remarkables ski fields, said the warm Easter has no bearing on what winter will bring.
But he said the settled summer, especially down in Central Otago, has meant they've been working flat out to get the ski fields in prime order.
"The guys been working hard all summer, and are now ready to get into winter mode," Mr Douglas said.
"All we need now is some snow, and the earlier the better."
Mt Hutt and Coronet Peak are both expected to start their seasons on June 9, while The Remarkables is set to open a week later on June 16.
While the season starts early in June, the social calendar in the southern ski capital of Queenstown kicks off at the end of June with the town's Winter Festival.
From then on, the adventure centre hosts a stream of events, including the Park Ice Invitation where a makeshift slope and jump is erected downtown and up-and-coming freestylers compete for cash.
"It's a fun place to be at this time of year," Mr Douglas said.
"It's a bit early to look at any (weather) patterns at this stage, but the season in Central Otago seems to be running as we would expect. Autumn has been, if anything, a bit early and is hopefully a sign of lowering temperatures going into winter. Let's hope so."
Similarly, Cardrona sales and marketing manager Nadia Ellis said it was too early to predict what the weather had in store for this season.
But she said Cardrona was feeling positive about the season and bookings from Australia were already looking good.
The Cardrona ski field was due to open on June 22, Ms Ellis said.
"We typically get an early snow fall at the beginning of May, first week in May, we get a little snow fall and then typically that will melt and then we won't start getting solid snow falls until June."
But while it was too early to guess how winter would compare with summer, Ms Ellis said the mountains near the Southern Lakes did not need too much snow to get started.
"Because they're really, really smooth, we don't need a whole heap of snow on the ground to get operational ... we can open on 30 to 40cm."
Over at Treble Cone ski field, organisers were hopeful the weather this winter would be ideal for a booming season.
"It's going to be reasonably cool, and we're going to see reasonably dry snow conditions ... for a lot of the season or certainly the early part of the season," Treble Cone spokesman Nigel Kerr said.
Treble Cone opens on June 28 and the season runs until September 30.
The weather over summer had been generally settled and sunny in the area, he said, but that was relatively unconnected to the winter ahead.
What would make a difference was the La Nina weather pattern, Mr Kerr said.
"La Nina cycle for the most of it, so that sees more southerlies, more dusting of dry, low temperature cold snow, so that's what we've got to look forward to."
A large dumping of Autumn snow and regular March and April morning frosts have set up a promising picture for the upcoming winter skiing season at Mt Ruapehu.
Callum Learmonth, a program manager at Ruapehu said the Turoa ski field was expected to open on the 16th of June and Whakapapa on the 23rd.
The manager of the Mt Ruapehu Summer Program said March and April had seen the best weather all year. He had no concerns about the possible effects of the recent bout of fine weather on the skiing season.
"We've had snow on the mountain at least five times this summer and in March there was snow below 1600 metres. We had to close the road for summer access," he added.
"It's also been cold in the mornings and cool in the evenings, which is good."
Mr Learmonth said the quality of the snow last year had been excellent and they were hoping for an even bigger season this year.
"Our season pass sales are up on last year."
He added that snow makers were in place to contend with unpredictable weather conditions.
"We have comprehensive snow making machines which can make a large amount of snow in five days."
The summer season finishes on Sunday 29 April.
- APNZ