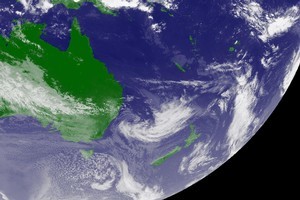 New Zealanders are being advised to batten down the hatches and stay away from the beaches as a huge storm bears down on the country.
The wild weather is expected to bring extreme conditions over the next 48 hours, including gale force winds, heavy rain and bitterly cold temperatures.
The same weather system is already causing major problems in Tasmania with thousands of homes left without power as strong winds, snow and surf batter the state.
The Australian Broadcasting Corporation reported that Tasmanians were experiencing their coldest day in decades.
A severe wind warning is already in force for Wellington, Wairarapa and the Marlborough Sounds and there was a possibility there could be severe gales for a time tomorrow in other areas of the North Island, Marlborough and also north Canterbury.
A heavy rain warning is already in force for Fiordland and the ranges of Westland south of Otira for today and during tomorrow, with the possibility of significant amounts of heavy rain tomorrow about the ranges of Westland north of Otira, Buller, northwest Nelson and about Mount Taranaki.
A heavy snow warning is in place for Fiordland and south Westland for tonight and tomorrow, with significant amounts of snow expected to accumulate above 300 metres.
Philip Duncan, forecaster for WeatherWatch.co.nz, said the weather was the result of one of the largest storms on the planet, the size of Australia and the centre of which was churning away about 1000km south of New Zealand.
The weather would not be as severe as a hurricane or cyclone partly because the low pressure system would be spread evenly and over a large area rather than tightly wrapped around a small centre
The New Zealand Mountain Safety Council has recommended people planing trips in the outdoors to wait until severe conditions had cleared.
"We strongly recommend people defer any trip into the outdoors in the worst affected areas until weather conditions have improved," Mountain Safety Council manager Chris Tews said.
People who went into the outdoors needed to take safety precautions and monitor the weather before heading out, he said.
"You should never cross a flooded or fast-flowing river or stream. If in doubt, stay out. Trampers, in particular, have lost their lives in the past after being swept away when attempting to cross swollen rivers."
Waikato Civil Defence has urged residents to be on the alert for rising river levels, high winds and heavy ocean swells on the west coast, over the next few days.
Environment Waikato yesterday activated a flood operations centre to monitor the Waikato and Waipa rivers, which were both full.
Civil Defence in Taupo, where lake levels were high, were preparing for strong winds which could result in more water being pushed on to shore.
Waikato Civil Defence spokesman Clayton Stent said authorities would let people know if they needed them to take any action.
"People living in areas prone to river flooding should pay attention to information in the media in case we need to issue any warnings for particular areas over the next few days," Mr Stent said.
- NZPA