An outspoken Sir Owen Glenn blasts Warriors co-owner in a radio interview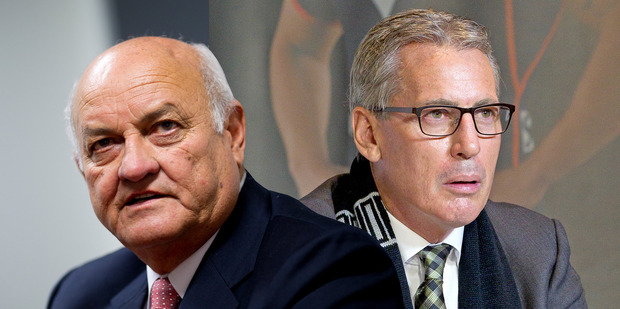 The battle between business heavyweights Sir Owen Glenn and Eric Watson escalated last night, as Glenn blasted Watson as "infantile".
In a fiery radio interview, Glenn also claimed "nepotism" was spoiling operations at the Warriors rugby league club.
Glenn-linked Kea Investments filed a statement of claim in the High Court in Auckland this week against Watson-linked company EJ Group and GWNZ Investments, a joint venture that owns the sports club.
"We're expecting the papers to be served imminently. In fact I think they may have been served," Sir Owen's spokesman, Ian Fraser, told the Herald on Sunday yesterday.
"They're not friends. I think it's pretty clear from the exchanges over the last two or three months that the relationship is in a state of disrepair," Fraser added.
"That's why these events are occurring now. When a business relationship breaks down, I suppose you have a number of options.
"But the option Sir Owen's chosen to take is to try to move on, on the grounds that it's best for everybody."
The breakdown of that relationship was there to be heard during last night's Radio Live interview.
"Let my maker decide whether I've behaved badly or Mr Watson has behaved badly," Sir Owen told the station.
"He's a very infantile person to deal with and his moods and swings, he is not a person I want to socialise with, let alone be in business with."
Sir Owen said the Warriors would be better off without Watson.
A spokeswoman for Watson said they were yet to receive court documents.
High profile Warriors supporter, "Mad Butcher" Sir Peter Leitch, said players had no interest in ownership spats.
"I was disappointed when Owen Glenn aired his dirty linen in public. It's a pity it can't be done in the boardroom," Leitch said yesterday.
Leitch said he was "just a pleb" and not privy to the dispute but his commitment to the Warriors would outlive Sir Owen's involvement.
"When he's gone, I'll still be at the club, mate."
Warriors chief executive Wayne Scurrah said the team had no interest in joining the dispute. "It's not appropriate. Best leave it to Sir Owen and Eric," Scurrah said.
"The players never get involved in any of those distractions so we're just focusing on running the club and the players are focusing on doing their best on the field."
Fraser said it was fanciful to suggest any storm involving the battling business heavyweights would damage the Warriors' on-field form. "These guys are tough athletes and it's a strong franchise with an incredible fan base."
Meanwhile, Sir Owen is understood to have regained control of his $400 million fortune.
Sir Owen launched a $400m court action against his former business advisers, alleging he was duped by his former business partner and close friend of 30 years, David J Miller, for US$350m ($400m), after selling his global logistics business two years ago.
But British Virgin Islands-based Kea Investments, of which he was recently named a trustee, is thought to hold the bulk of his fortune.
Sir Owen was in London this weekend, where Watson also spends a lot of time. Fraser said Sir Owen was not keen on discussing his private fortune, although he was in "pretty good shape" financially.