Karate champ takes on kickboxing bout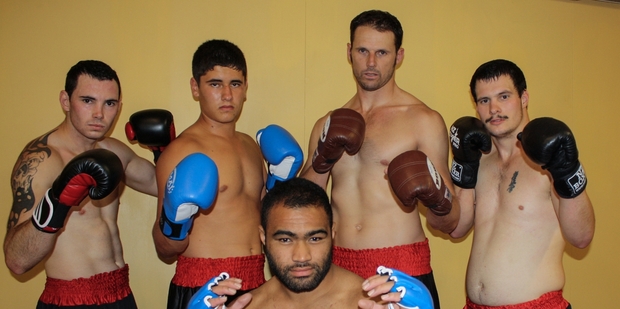 They come for the recognition, for the payback and for the notoriety.
Wanganui's martial arts exponents have a range of motivations to gain victory at tonight's River City Rumble at the War Memorial hall, which will be a 13-fight card of Muay Thai kickboxing and MMA.
While Pete Parson has headlined his fair share of Rumbles as one of New Zealand's top karate practitioners, tonight is unfamiliar territory as he makes his kickboxing debut against Dannevirke Bulldog's Moe Hussain.
A six time heavyweight champion and five time overall champion at the Kyokushin Karate National Championships, Parson had been looking for a different kind of challenge after his last nationals in Wellington last October.
After agreeing to main event this year in kickboxing, he has been sparring for a solid two months.
"A lot of it is similar, but a lot of it is where you're learning something new it is the unknown," he said.
"The blocking and the head strikes that's the main difference."
Parson has been focused on his hand strikes, while also adjusting to the change in distance which kickboxers use to connect with blows.
He is wary that Hussain has experience and the stewardship of respected coach Ben Ahipene, so there will be no predictions of a quick finish.
"I think he'll be on his game, that's for sure.
"I'll give it everything I've got and see how we go, but I'm quietly confident."
Another thrill will be the chance to perform in front of a genuine big home town crowd, often a missing ingredient for Wanganui competitors who routinely have to travel to the big centres for the main tournaments and fight cards.
"A lot of the time you're fighting out of town and your friends and family just see you training, they never see you in action."
Two-sport star Matt Gibson can appreciate that distinction.
While now based in Auckland, the V8 Ute series and TR86 Championship competitor still sends out his press releases marked "Wanganui driver" and he is counting on home support to lift him for his A Class MMA rematch with Kapiti Coast's Steve McKenna.
It is a bit of gamble for the former national judo champion to continue to indulge in the fight game when his motor racing career is beginning to take off.
"A lot of [racing] people don't know I do it and when they find out they often take a step back and say, 'okay, I won't mess with you'," Gibson said.
"Sponsors wise, so long as I jump in the car and race, that's all that matters."
Gibson said he and McKenna, who was narrowly victorious in their last meeting, are very well matched.
They have similar striking ability while McKenna's base is his Brazilian jiu-jitsu compared to Gibson's judo.
"Last time we fought I felt like there was parts I could dominate, but having the flu, I had no strength and just had to hang on," he said.
"It's going to be a very tough fight."
Meanwhile, Assassins Guild grappling coach Craig Mercer could not be said to lack for confidence for his MMA clash with Fiteshop Palmerston North's Tenali Iosefa.
"I'll be going for the finish again don't leave it up to the judges because you can't trust them."
This will be his third MMA A Class fight, winning his first by unanimous decision at the 2011 Rumble, then another last year by armbar submission in Round 1.
The judo exponent has also been successful in kickboxing with a knock out victory in May 2013.
Mercer said he knows little about Iosefa, other than seeing one fight on You Tube where he acknowledged Iosefa's strong right hand and his victory by taking his opponent down and finishing him with strikes.
Therefore, he has not locked in a strategy, deciding on the night if he will try to ground Iosefa and keep him there, or stand up and trade with him.
"He'll come in pretty hard and have a hard head.
"Hopefully I'll gain a bit of respect on the feet, and in the clinch if there's an opportunity I'll take him down and try to finish it with ground-and-pound or submission.
"I'm just going to try and relax and let it flow."
With five different Wanganui clubs represented on the card, it will be a big night for the local scene.
The other MMA clash is Wanganui Warrior Kamipeli Latu, a 2013 Wanganui Development XV rugby representative, meeting Fiteshop's Bishop Poi Poi, who will have about a 7kg weight advantage.
Warrior Brian Alderton meets Upper Hutt's Shane Johnson, while Mercer and his Guild partner Kyle Gallacher will be supporting their fellow clubmate Jono Anderson against Upper Hutt's Shane Wallace in a modified rules Muay Thai fight.
All five of the novice matches will feature locals.
The fights start at 6.30pm.