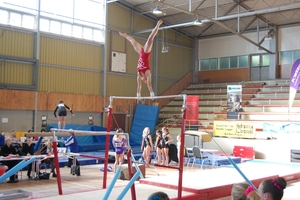 Competitive gymnasts from the Wanganui Boys and Girls Gym Club returned home from two competitions at North Island venues at the weekend with a haul of medals and qualifications for upcoming national events.
Four trampoline gymnasts competed at the Midlands Championships in Rotorua and 17 artistic gymnasts competed in New Plymouth at the Waitara Gymsports Opens.
Jamie O'Hagan earned a bronze medal in the synchronised trampoline competition in the 11-12 age group, and Tim Butler won a gold medal for his trampoline routine in the 15-16 age group.
Briar Limpus achieved her goal of qualifying for the NZ Gymsports championships on trampoline, joining Tim Butler, Jamie O'Hagan and Michaela Davey as the competitors from the Wanganui-Manawatu region.
In the artistic competition, Amardin Firaza and Troy Rea moved up a level for their last competition of the season and performed with outstanding results.
Firaza competed in Level Two and came away with a first on rings, second on parallel bars and second overall. Rea competed in Level Three receiving a third on floor, third on rings, third on vault, first on parallel bars, second on high bar and a first overall.
Topping off the boys' success, Cameron Russell received a first place on pommel in the Level Three competition and Jesse de Vincentis competed in Level Five with a win on the floor, third on pommel, first on rings, first on vault, third on parallel bars and a first on high bar to place first overall.
Chase Morpeth also achieved a second on pommel (Level Two) and O'Hagan got second in double mini trampoline.
The girls also competed strongly in Step 3 with Holly Burrows receiving a first on bar, Sarah Anthony was third on floor and the Wanganui team of Holly Burrows, Sarah Anthony, Katja Mokha and Joella Hylton placed second. In the Step 4 division, Timara Wallace earned a third on floor and Genna Maples was third on vault (Step 6). In the senior division, Millie Manning had some outstanding routines to receive third on beam, third on floor, first on vault, first on bar and first overall.
After a successful season, the club's senior gymnasts are preparing for the nationals as the juniors continue their training.