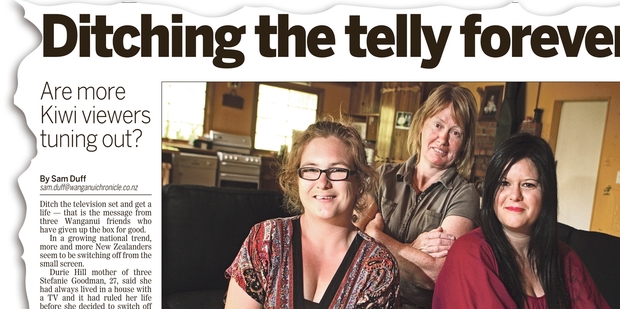 Yesterday's Chronicle front page reported on three women who have sworn off the old gogglebox. Forsaking television for more worthwhile pastimes, they say.
It's even suggested they are part of a nationwide Turn-Off-Telly movement.
Whoa! Just a minute there, ladies. Maybe you've jumped the gun.
They obviously are not aware of plans for a bumper new reality show.
Details are hazy, but I can let them in on the bare essentials of the latest ratings winner.
In a nutshell, four teams of seriously overweight couples will renovate an old house while singing kitsch pop ballads from the 1980s.
Too good to miss - that's The Block Biggest Losers Got Talent (the provisional working title for the show).
TBBLGT will ratchet up the blood, sweat and tears as paunchy power-drillers and blubbery builders battle for a brief glimpse of small-screen fame and some obscure prize provided by one of the show's innumerable sponsors and product-placers.
Squabbles, name-calling and hissyfits are, of course, guaranteed and everyone goes on a "journey" ... to the bottom of the proverbial barrel.
And it's all done in front of a panel of judges comprising that guy who used to be in those adverts a few years back; a one-time TV weather girl; and a token "celebrity" chef.
So have a rethink, you brave TV-less Wanganui lasses. Then again ... maybe not.
They say you get the TV you deserve - just what did New Zealand do that was so bad?