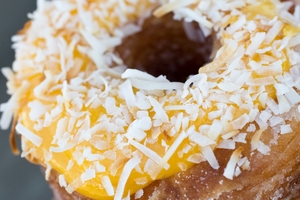 By the time this makes it to print there will be a very good chance that New Zealand will have re-claimed the America's Cup and I for one will be sick to death of hearing about it.
So rather than add to the many mentions that are going to made of it I thought it best that I turn my attention to the next big global event, which, of course, is my birthday.
It's precisely a week from today, and I thought it only fair that I give you suitable warning so that any and all gifts will arrive in time.
Small gifts, like jewellery, gift cards, iPads and notebooks can be delivered to the Chronicle office. For larger gifts, such as lounge suites, framed art and stereo units, please email me so I can give you a time and address for delivery.
Food items are also welcome. I am very partial to cheesecake, seafood, beef and pork, and of course a good box of chocolates.
I'm hoping this monumental event might inspire some local pastry chef or budding baker to try their hand at the new foodie phenom "cronuts".
Having seen all the hype about them and as a result nearly drowning in a pool of my own drool, I have been waiting anxiously to hear news of its arrival in Wanganui.
With the heavenly croissant being my birthday treat of choice last year, I can't even begin to imagine how much more luscious and decadent it would taste having been mated with a donut, deep fried then piped full of indulgent pastry cream.
So ... if anyone feels up to the challenge, I am more than happy to sample your efforts and review them in next week's column. Whoever is able to master it locally and get it out there for sale first stands to make a fortune.
But, back to me ... cards and flowers are also welcome and gift wrapping, whilst not essential, will not go unnoticed.
I was thinking of having a night out on the town, picking up some poor unsuspecting vision-impaired guy and finally putting some naughty into the forty-something I will be. They say it's just like riding a bike, but to be honest donning a safety helmet, high-visibility vest, as well as knee and elbow pads, doesn't exactly conjure up images of passion and romance. Then there is the question of my reputation. As much as I might want to get back on the bike I don't want to be the (town) bike.
I long ago resigned myself to the fact that my cat gets more action than me and I'm OK with it.
My lone birthday wish has remained the same over the last few years: a peaceful day, just one, solitary day when I don't have to broker peace among the life forms. No presents, no cards, not even breakfast in bed, just a quiet day.
This year, however, I thought I might change things up a bit and be greedy. Why be disappointed just once when I can be disappointed so many more times. Not content with anything other than epic failure, I thought I might as well wish for a job.
I'll consider just about anything at this point but draw the line at child care. If I detest my own three life forms it's a safe bet that leaving your kids in my care will not result in a happy ending. Apart from that, I'm raring to go. I'm very creative and can turn my hand to just about anything. I'm a fabulous dictator but can also work well as part of a team. I'm literate, loyal and mad as a hatter ... what's not to love?
Please send your job offers to: needy and greedy, via investik8@gmail.com and as ever, your feedback is always welcome, but remember, in honour of my birthday, you may feed me with food. Crank out those cronuts and assuming I don't eat myself to death, I'll catch you next week, another year older but probably none the wiser.