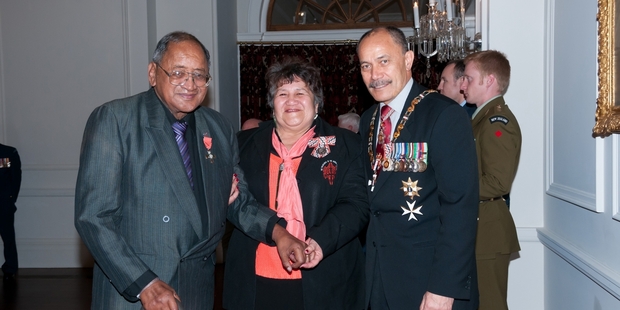 MORVIN was born in 1944 at Whanganui on the seventh day of the seventh month, the seventh child of John and Mary Simon.
He was educated at Upokongaro Primary School and then Hato Paora Maori Boys' College, Feilding, where he spent five years as a student. He was head prefect for two years and dux in his final year. After college he attended Holy Name Seminary in Christchurch where he studied philosophy, psychology, ethics, sociology and religious studies. While at Canterbury University he also studied Te Reo Maori Stage 1 at Victoria University.
Morvin was surrounded by music throughout his childhood thanks to his dad and his maternal uncle, Te Ope Whanarere. Both were prolific composers and multi-instrumentalists. Morvin was destined to that same path. He composed the first of hundreds of songs at Hato Paora college at age 14. His songs are still sung there and indeed throughout the world.
On April 4, 1969, Morvin met Kura Edmonds and they were married a year later by Pa Ihaka Gupwell at the old St Mary's Church.
Later that year Morvin, aged 25, and family moved to New Plymouth where he sole-managed the Maori Affairs Department office as Maori Welfare Officer.
In March 1971, Morvin and Kura welcomed their first son, Kieran Kahurangi, followed in February 1972 by their second son, Paul. Sadly Paul was diagnosed with cancer, so late in 1973 the family returned to Whanganui where Paul died aged 20 months. Morvin was working for the Social Welfare Department at the time, at the Holdsworth Boys' Home.
In 1975 he returned to Hato Paora and taught there for eight years as head of the Maori department. In 1982, a "request" came from one of his Nga Paerangi kuia to return home. She said while he was at Hato Paora teaching boys from all over the country, his own on the river were starving for his knowledge. He handed in his notice that very day but continued tutoring the school's senior kapa haka team for another 30 years.
On his return home to Whanganui, Morvin was unemployed for nine months but with the help of young unemployed nephews he gave the Kaiwhaiki meeting house, Te Kiritahi, a much-needed renovation.
He was again employed by the Maori Affairs Department, this time to manage the new Maatua Whangai initiative, but late in 1983 he returned to education as the Maori and Pacific Island Liaison at the new Wanganui Regional Community College. Te Reo Maori was in demand and, with the super-talented Henry Bennett, they made inroads towards iwi education, Morvin as head of school Maori and Henry as head of the department, which Morvin named Rangahaua. During the ensuing 14 years many of his students became teachers and principals themselves.
Over five decades he was responsible for the successes of many performing arts and choral groups, including Kaiwhaiki's St Peter Chanel Club and Te Matapihi Kapa Haka, both of which have won numerous awards over the years. Morvin composed seemingly so easily that people lined up and waited for him to create them a song, a tune, a haka, a poi, a choral piece and even poems.
In 2009, at the New Zealand Maori Music Awards, he was recognised and awarded for his Lifetime Contribution to Maori Music.
Morvin wrote many books including the three-volume series Taku Whare E, an anthology of marae throughout the Whanganui/Rangitikei region.
He also wrote the comprehensive Hui Aranga book of all the Catholic clubs that participated in its first 50 years. Another was the Te Kohanga Reo book acknowledging all the kohanga within Aotea.
As an orator of note, he was sought as kaumatua for government departments and formal parliamentary events and from 2001-2005 Morvin and Kura shared the role of kaumatua with George and Piki Waretini at the Whanganui Iwi Exhibition at Te Papa Tongarewa in Wellington. With Te Papa staff, they cut a CD of Whanganui River songs, most of them Morvin's.
While awaiting their turn at Te Papa, Morvin and Kura worked for the newly established Te Wananga o Aotearoa in Whanganui and years later, these past three years, saw Morvin return to teach, sadly passing away before this year's graduation where he would have proudly presented the students with their diplomas. In 2005, the Wananga acknowledged Morvin's contributions to Maori education and bestowed an adjunct professorship on him. In 2012 Te Wananga o Te Awanuiarangi awarded him an honorary Bachelor of Arts degree in Maori Performing Arts.
Four years ago Morvin and Kura "retired" from tutoring Te Matapihi and formed the popular kaumatua kapa haka, Te Taikura o Te Awa Tupua, seen at many events around Whanganui.
In 2013, both Morvin and Kura received Queen's Birthday honours for Outstanding Service to the Maori Community. Morvin became a Member of the NZ Order of Merit (MNZM) and Kura received the Queen's Service Medal (QSM).
Twenty years ago Morvin was diagnosed with diabetes which eventually led to kidney failure and years of visits to Palmerston North hospital for dialysis. Despite this, he never stopped working for the people.
From the family, we pay a special tribute to all the staff at the Palmerston North Renal Unit and to Dr Norman Panlilio and others for the many years of care; Morvin appreciated you all. To the shuttle boys and to the St John shuttle drivers, Morv enjoyed your company and the jokes you shared on your trips to dialysis three times a week.
For our children, mokopuna and I, he was our love, our dad, our parpz, our Popo and we will always be comforted by the memories and special times we shared with him. To Wellington Intensive Care and especially to Wendy, the wonderful caring way you nursed Morvin in his final hours was so heart-warming.
Those final special moments where he awoke and focused to see all his children there singing to him and he beamed us a wide and beautiful smile before he took his leave, will never be forgotten by any of us. He died very peacefully in my arms on May 14 this year.
We can imagine how more beautiful heaven is with Morvin as choir master conducting the heavenly choir.
His tangi saw thousands of people travel from all over the world to be with him, this inspiring man who was a mentor, choral master, master of kapa haka, te reo, tikanga and music, a professor, matua, kaumatua, family, friend and even simply "Master" and "Sir". People came to pay their respects at Hato Paora College, Ratana Pa, Whangaehu Marae and at his own marae, his Hollywood, his paradise Kaiwhaiki.
To Mike Pehi, Funeral Director, Palmerston North, we thank you for your tauiwi expertise.
To all involved at Hato Paora, the paepae, kaikaranga, kaihaka, ringawera, Pa Chris Martin and principal Debbie Marshall-Lobb, for honouring Morvin's request to lie at his old school, thank you. With 55 years association, he never really left.
To our whanau at Ratana, your tono for your Uncle, even for only a couple of hours, it was a privilege to be among you. Thank you for the entertainment and hospitality.
To Whangaehu Marae, Tariana and family, it was so appropriate to Morvin's Haimona whakapapa that he rest there in Rangitahuahua for a night and we thank you for requesting him.
Ki nga uri o Nga Paerangi, what can we say? You had your uncle and koro covered to the max. Never in my 45 years at Kaiwhaiki have I seen a haka powhiri anywhere so spectacular; whanau in blacks and piupiu spread wide and deep across the marae. You truly thought of everything to host the anticipated thousands and you all gave of your total energies and of your hearts to ensure everyone was hosted exceptionally well and "thank you" seems so inadequate.To our paepae, kaikaranga and kaiwaiata, Uncle/Koro had to be proud; you carried out your roles masterfully.
To cousin Manny Whanarere and your team, thank you for preparing your cousin's final resting place at the family urupa, Manuriki. He now rests where he wanted to be; at the foot of our baby son (RIP, 1973) and among those of his tupuna, his dad and his sister.
In his death, Morvin has brought Manuriki to life.
To Pa Dave Gledhill, Bishop Charles and all the priests, to the Apotoro, Ringatu minita, Salvation Army and Anglican ministers, thank you for sharing the amazing two-hour farewell mass with us.
To St Peter Chanel Juniors, Hato Paora College, and to soloists, niece Aroha Rzoska and our daughter Lynaire, the singing was outstanding and Lynaire, as you sang your Beautiful Day, a song Dad always enjoyed, and when the sun beamed brilliantly across the marae, one couldn't help but feel Dad was instrumental in that.
To all who gave food or koha towards such a massive undertaking, thank you so much and thanks to the many who sent cards of condolence. Such a beautiful tangi. The sheer number of people drawn in by Morvin from all over was incredible and a sight never to be seen again in our lifetime.
Rest in peace Morvin Te Anatipa Simon. You will indeed be saying your own thank you from above and awarding your first 10 out of 10 for this your final test, your final wananga with us all. Full marks whanau, so well deserved.
Morvin is survived by his wife Kura and their children, Delwyn, Kieran Kahurangi, Maramapai, Lynaire, Sandra, Kaha mai te rangi, Tona, Chelsea, Turehu and Chevonne, and their many mokopuna.
There will be a viewing of footage filmed during the six days of Morvin's tangi for all the kaimahi. This will take place at Kaiwhaiki at 6pm on Sunday July 6 in Te Kiritahi. Shared kai.
Finally, our thanks to all the photographers and videographers.