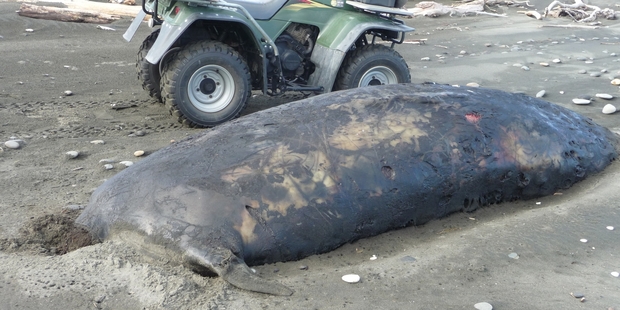 Department of Conservation (DoC) and museum staff were too late.
By the time they got to Wanganui's South Beach on Tuesday, the carcass of a small whale had gone.
They were alerted by a photo in the "Life in pictures" section of Tuesday's Chronicle. But the photo - by Barry Head - had been taken in April.
Whanganui Regional Museum curator of natural history Mike Dickison and DoC staff went to look for it.
"It's a bit disappointing," Dr Dickison said. "I suspect those big tides have broken it up and washed it away. If the whale had been new to science we'd never have known."
Now DoC is reminding people to notify them about beached mammals as soon as they are found. Dr Dickison said there was a process for dealing with washed-up mammals that was part of the Marine Mammals Protection Act 1978.
In the case of any washed-up mammal, DoC should be notified in the first instance, as it was in the interests of science and other groups such as iwi and museums.
In the 1930s a whale that washed up on South Beach turned out to be an undiscovered species. It was still in the museum and was named after former curator George Shepherd. "So it is quite important," Dr Dickison said.
Once DoC or the museum had been notified of a beached mammal, the appropriate steps - including organising volunteers to guard it - could be put in place. Negotiations then took place as to what would become of it.
"They're too important to be left to some vandal to destroy. It's not public property or a free-for-all."
The recent carcass had had its head cut off, which was illegal.
"It's hard to know; it could have been done before it washed up here," Dr Dickison said. "It's not uncommon for someone to go out there and mutilate it."
DoC's Jasmine Hessell also urged people to get in touch as soon as any marine mammal was discovered. "There are some interesting species found around the Wanganui coast," she said.
"Don't touch it - give us a call."