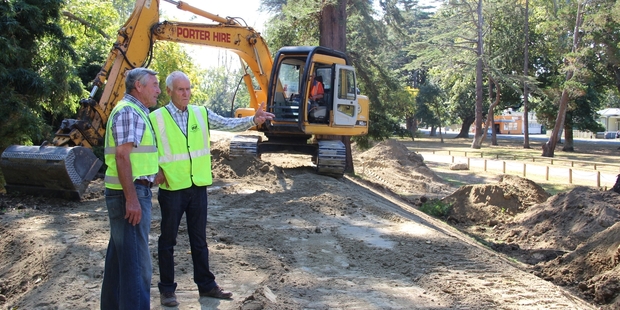 Wanganui ratepayers may not have to come up with a one-off payment for the Anzac Pde/Kowhai Park stopbank work.
There may be an option for the scheme to be spread over three years.
The new proposal is part of the latest Anzac Pde/Kowhai Park stopbank funding options in the Horizons Regional Council's draft Annual Plan. The draft plan outlines the work Horizons will do in the year ahead and its cost.
Wanganui Horizons councillor Rod Pearce says the plan is essentially business as usual, apart from a few proposed amendments to the 2012-22 Long Term Plan.
One of the amendments is how the Anzac Pde/ Kowhai Park stopbank upgrade work will be funded.
"The 2013-14 Annual Plan proposed the loan required to complete the work would be repaid by way of a one-off scheme rate increase.
"While this would have saved a significant amount in loan interest payments, council was concerned the scheme rate increase would be too great for our ratepayers."
The other Wanganui Horizons councillor, David Cotton, says the council now proposes the loan be repaid over a three-year period.
"This option will significantly reduce the rating impact and is considered to provide a good balance between project cost and rating affordability," Mr Cotton said.
"The draft Annual Plan also provides figures for five and 16-year funding options for people to consider so I encourage people to take a look at the Plan online or at the Wanganui service centre and let us know what they think through the submission process."
Works have already begun at the site and Horizons group manager operations Allan Cook says when completed the stopbanks will be designed to contain a 50-year flood without any freeboard provision.
Mr Cook said the flooding in October had a 23-year return period and the upgrades would provide a uniform standard of protection in terms of both "flood carrying capacity and structural integrity".
He added that the upgrade would easily contain a similar event and a larger flood without the high level of uncertainty and community disruption experienced last year.
"The protection has also been carefully designed in a way to minimise damage to trees in the arboretum as we understand their value and importance to the community," Mr Cook said.
The full draft Annual Plan document is available online at www.horizons.govt.nz and hard copies are available to view at Horizons service centres. Submissions close 5pm, Friday May 2 and can be made by: filling out a submission form on the back of the summary; posting a letter to Freepost 217922, Horizons Regional Council, Private Bag 11025, Manawatu Mail Centre, Palmerston North 4442; going to www.horizons.govt.nz and submitting online; or emailing your submission to submissions@horizons.govt.nz.
Submission hearings will be held May 19-22 and may be held at locations throughout the region based on demand.