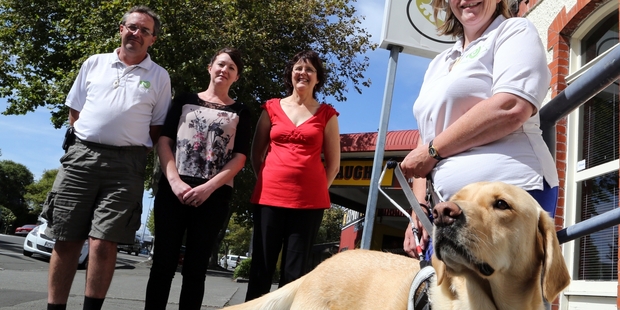 Helping those with a disability to be independent is the task of Workbridge and Genevieve McLachlan.
Mrs McLachlan, who is legally blind and has cerebral palsy, comes to Wanganui with her guide-dog Pedro to assess Workbridge clients' needs.
Workbridge is a professional employment service for people with all types of disability.
Workbridge consultant Jan Lawton says when their clients see Mrs McLachlan walk in with her aid and with Pedro, it breaks down barriers.
"We are putting equipment and training in place for them to be independent, and an assessment will show whether the client needs support or technology," Mrs McLachlan says.
But the technology has to be related to their needs.
The assessments are for those who are in work and or training, in order to qualify for the Ministry of Social Development support fund.
Voice dictation software could be one of the technology supports for someone with learning issues where typing was more difficult.
This is becoming important with a population of people getting older and staying in work longer, Mrs Lawton said.
The technology gave people choices, she said, and Workbridge had seen great transformations in their clients.
However, Mrs McLachlan says she has been known to not recommend technology support for people who will not use it.
She added that clients had asked for a laptop, but they were not standard issue and not supplied.
Workbridge's core business is to get people with a disability into work, Mrs Lawton says.
Mrs McLachlan's work takes her around the country, and Air New Zealand also allows her to take Pedro on board with her.
She has been working in the adaptive technology field now for seven years, and encourages people to talk with Workbridge to get into work or training; then they they will meet the assessment criteria.
For more information contact Workbridge, 373 Victoria Ave, www.workbridge.co.nz, 3480352