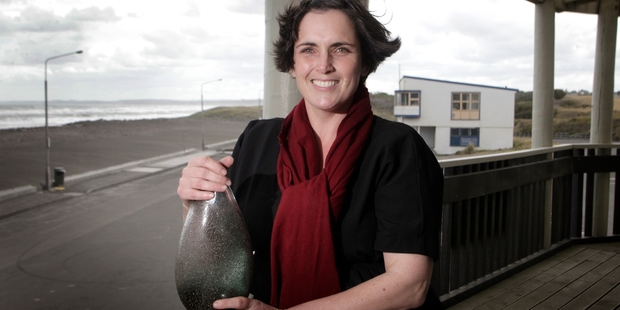 A feature of this year's Artists Open Studios Whanganui is the number of "hubs" or groups of artists who are exhibiting together, rather than in individual studios.
One such "hub" is a group of 10 Castlecliff artists who are taking over Duncan Pavilion for Open Studios, in the hopes of revitalising the beachfront community hall.
Open Studios 2014 will be held from March 22-23 and 29-30. The event gives art lovers the opportunity to see artists at work and to buy artworks directly from the creators.
Fran Anderton, Russell Brown, Maurice Currin, Mel Deacon, Debs Halliday, Jo Auld, Elana MacDonald, Jack Marsden-Mayer, Dale Hudson, and Richard Te Ua will exhibit their glass, prints, paintings and installations during the Open Studio weekends.
The group's spokeswoman, glass artist Jo Auld, said a temporary cafe - named The Green Flash - would also be set up at the pavilion for the two weekends, serving coffee and food.
"This is just a temporary cafe, but we're wanting to see if there's interest in having a seasonal cafe here.
"Back in the day, Duncan Pavilion used to be a tearooms," Ms Auld said.
All the artists exhibiting at Duncan Pavilion were Castlecliff locals, she said.
"None of us have proper studios, so we thought the Duncan Pavilion was a great place to have an exhibition."
For more information on Artists Open Studios Whanganui visit www.openstudios.co.nz