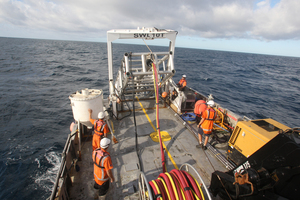 A hearing into mining ironsand from the seabed will move to a South Taranaki marae for a few days next month, Ngati Ruanui chief executive Debbie Packer says.
The hearing by a five-member committee is the first under New Zealand's new Exclusive Economic Zone (EEZ) legislation.
It starts on Monday in Wellington, and moves to Ngati Ruanui's Pariroa Marae near Kakaramea for a few days in late April. It may also come to Wanganui that week, and will be in Hamilton from April 7-11. It is expected to end in early May.
Trans-Tasman Resources (TTR) wants to mine ironsand 22km offshore from Patea.
Mrs Packer and other Ngati Ruanui representatives met TTR chief executive Tim Crossley and board chairwoman Jenny Shipley. They were told the Ngati Ruanui submission was the most technical and complex made. The iwi's environmental team, Shihan Ngarewa and Graham Young, had been working on it for 18 months.
Ngati Ruanui's coastal Taranaki area contains a wealth of oil and mineral resources. Mrs Packer said the iwi was determined to be the guardian of the area, and always responded to applications to exploit resources.
The next matter for the iwi to consider will be the NZ Oil and Gas intention to drill 12km off the Patea River mouth in 20m.
Mr Crossley said TTR is determined to win approval for offshore ironsand mining. It believes the project will be beneficial overall.
It is still meeting stakeholders and dealing with extra information required, especially on the extent and effect of the sediment plume mining would create.
Kiwis Against Seabed Mining (KASM) chairman Phil McCabe also looks forward to a fair hearing. Supporters will be in Wellington next week, and he plans to take three weeks away from his business later in the hearing. The KASM team will include a lawyer and assistants, with back-up from informed people at a distance.
Mr McCabe discovered on Wednesday that the Environment Ministry will not fund the legal expenses of members of the public involved in EEZ hearings. That was a big blow, he said.
"We can't afford to have a big team in Wellington. We haven't been able to employ as many experts as we would have liked."
He is convinced not enough is known about the marine environment and its effects for the project to go ahead.
The Environmental Protection Authority will be running the hearings to decide whether mining can go ahead. Its decision-making committee is tasked with weighing up the effects of mining - on the environment, on existing interests and on the economy.
The committee will be chaired by Greg Hill, a planner, resource management consultant and coastal expert. With him will be board member Gillian Wratt, skilled in environmental science, William Kapea with tikanga Maori knowledge, environmental lawyer Stephen Christensen and offshore industrial operations expert Brett Rogers.