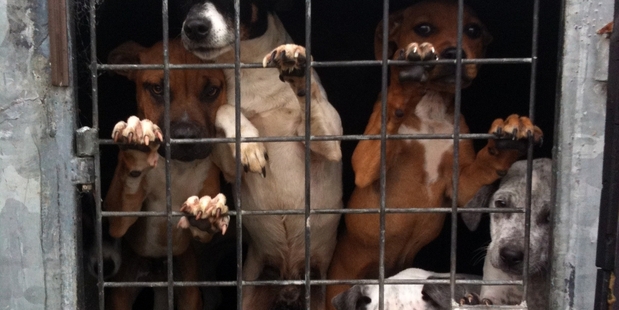 Putting down dogs by injection would be a cost borne by the "good" dog owners in Wanganui and is a prime reason the district council continues gassing unwanted dogs at its pound.
The practice has been called barbaric and a petition is circulating to stop it. Wanganui is one of the few councils still putting dogs down by this method.
The council argues that euthanasing by injection administered by vets comes at a cost that would have to be met through higher registration fees.
Jonathan Barrett, deputy strategy and development manager, said many of the dogs euthanased were not registered and it was the "good" dog owners who had to pay.
Death by injection was difficult because the dog had to be muzzled and held down while its leg was shaved and an injection inserted and pumped in.
"There are additional risks to vet staff while attempting to euthanase stressed and potentially aggressive dogs," he said.
"Even if the dog is muzzled and restrained - and that means a minimum of two people are required - bite injuries can still occur. So the risk is a significant issue as well as cost."
The city pound euthanases dogs using carbon monoxide (CO) for a minimum of seven minutes. Council says the procedure is painless and effective unless the dog's respiratory system is already compromised, in which case longer exposure may be required.
"Using the CO method means the dogs are free of drug contamination and the body is usable for vet research and training," Mr Barrett said.
The Chronicle has been told by a source who did not want to be identified, that puppies and dogs are put in the chamber, which is a steel box with a mesh door. Another steel door is closed over the mesh door and a "very unreliable old car motor" is started to pump carbon monoxide into the chamber.
The source said that while some carcasses go to Massey University for training, "the others go to the dump".
"They're beloved dogs that some people entrust animal control to rehome because their circumstances have changed. And their pet ends up in the dump," the source said.
The council's gassing of dogs goes against usual practice worldwide. Pets are almost always euthanased by intravenous injection. Unconsciousness, respiratory then cardiac arrest follow rapidly, usually within 30 seconds.
The World Society for the Protection of Animals has its own list of best practice for euthanasia. Its preference is for an injection of pentobarbitone.
But the Wanganui pound method is at the bottom end of recommended methods along with electrocution, decompression and injection with cyanide or strychnine. It said CO poisoning was slow-acting and the time taken for dogs to lose consciousness widely variable.
A petition to end gassing at the pound will be presented in two months and can be viewed at: http://chn.ge/1gdNxk4