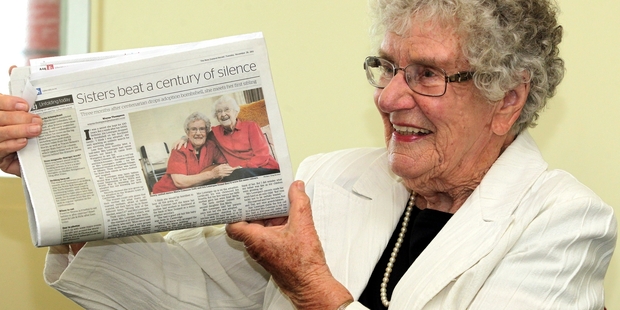 Wanganui woman Merle Coleman is 89 years old; her sister Iris Lonergan has just passed the 100 mark. But until two months ago, neither knew the other existed.
Their lives were changed dramatically when Mrs Coleman received a telephone call in September from Auckland from Dr Ray Lonergan, Mrs Lonergan's son.
"He told me he had been researching the Collard family ... Bretta Collard was my mother's maiden name," Mrs Coleman said.
What the caller said next left Mrs Coleman stunned.
"I want to say this lovingly ... I have some information about your mother," Dr Lonergan said.
Mrs Coleman's reply: "Oh, was she an ex-convict?"
Dr Lonergan told Merle she had a sister - his mother.
When Mrs Lonergan turned 100, she had told her family: "I think I was adopted when I was 5-and-a-half months old."
The sisters' mother, Bretta Collard, was 26 when Mrs Lonergan was born and given up for adoption. She married at 32 and had three more children - Mrs Coleman and two boys.
Bretta Collard died in 1983, aged 96, and took her secret to the grave.
A search of the Collard family history had led to Mrs Coleman, and last week the two sisters met for the first time at the Rosedale Village in Albany where Mrs Lonergan lives. Remarkably, both women wore a red top and black trousers.
Knowing her sister liked flowers, Mrs Coleman had picked a bunch of red roses from her garden before driving with her son and two daughters to Auckland for the meeting.
Mrs Coleman requested the first 10 minutes alone with her older sister.
"She was very loving - it was delightful," she said.
In telling her story, it appears the sisters share the same sense of humour. They talked about the games they played as young girls, like hopscotch and skipping.
However, there is a lifetime of catching-up which, Mrs Coleman says, will never happen for them. It will probably be their children who will fill in the intervening years.
And in their start in life, the two girls were given a similar first, and the same second name - Bretta Collard named her first daughter Enid Merle and her second daughter, Ena Merle. Mrs Lonergan's adoptive parents changed her name.
Back in Wanganui Mrs Coleman has been buying a "sister" Christmas card - the first such card her sister would have received.
Like all good stories, against the odds, the two sisters have found each other late in life.