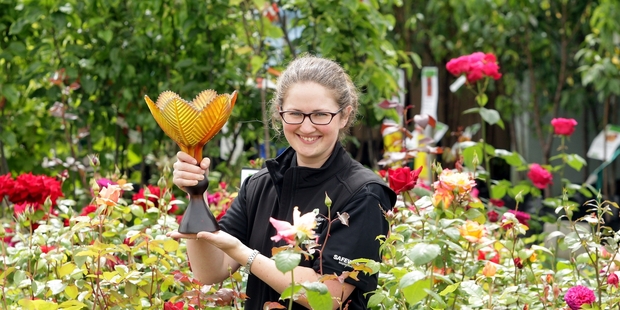 A life-long love of plants and gardens has propelled Wanganui's Kelly Jean Kerr to a top spot in the horticultural world.
She returned from a gruelling two days of competition in Auckland last week with the title of Young Horticulturist of the Year. She gets a beautiful glass trophy, $11,000 to spend on travel, $1500 cash and $1650 worth of garden-related products.
She also got an invitation to visit Bayer's agri-chemical production plant in Germany, and is making other travel plans.
One of the final stages of the competition was "horty sports", where the six competitors from across the horticultural trades raced to complete tasks such as assembling a pair of secateurs and identifying the fruit in six different jams. Ms Kerr was nearly stumped by the first horty sports task, which was tying a diabolical knot. But "big picture" understanding from her landscape architecture training and her enthusiasm for the green life won the day overall.
She said she'd like to see more green spaces, plants and flowers, and more people interacting with them. Amazing work was done in Wanganui in earlier days, but she said it was now lacking in places.
"I think we could be doing better in terms of street planting. Dublin St would be a prime example."
Ms Kerr was brought up on a quarter acre section in Wallacetown, near Invercargill. Her parents were keen gardeners and she and her sister had their own little vege plots.
"I was always aware of green life, and spent a lot of time in parks and gardens."
Right through school she knew she wanted to be a landscape architect, and she spent four years studying for an honours degree at Lincoln University.
She's now been working at Springvale Garden Centre in Wanganui for nearly five years, doing everything from designing gardens to driving forklifts.
"I like being on the ground and working with plants, not at a computer as a landscape architect."
She came top in the Nursery and Garden Association nationals in July before competing in the Young Horticulturist event. Elements of that Auckland competition included plant identification, soils and fertiliser, a speech and an Excel spreadsheet exercise.
For the last two months she has been working on a computer programme for novice gardeners. Those involved what they want to grow and the application reminds them when and how to plant and care for the garden.
The Royal Horticultural Society Garden at Wisley, near London, is one of her travel destinations.
In New Zealand, she'd like to see developments along the lines of the Plant Life Balance movement in Australia. It aims to have 20 per cent more urban green spaces by 2020. "I'm really interested to see what we can do about that," she said.