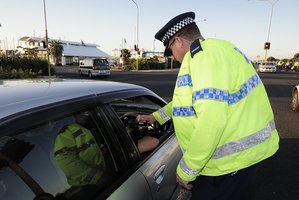 Thousands of travellers are expected to pull into "driver reviver" rest stops on some of the country's main routes this Labour Weekend, including the one at the weigh station opposite Ohakea air base on SH3.
The driver reviver stops are being promoted by State insurance company to combat driver fatigue and the Ohakea stop will be manned from 10am-6pm next Monday.
Company staff will be enticing motorists to take a break with free coffee, a sausage sizzle, fruit, bottled water, kids' activities and Portaloos. Tired drivers can even take a nap.
Official figures for 2012 show that 51 people died in crashes where fatigue was identified as a factor, 139 suffered serious injuries, and another 555 suffered minor injuries. The total social cost of crashes involving fatigue last year was an estimated $291 million.
To help avoid fatigue, drivers should get a good night's sleep before driving. They should also plan their journey to include rest breaks and share the driving when possible.
Experts also say drivers should not be at the wheel during the hours when they would normally be sleeping or napping. Snacking on light, fresh foods is helpful but it is best to avoid rich or sugary foods and don't drink alcohol.
Signs of driver fatigue are trouble focusing, daydreaming, yawning or rubbing your eyes repeatedly and drifting from your lane, tailgating and missing signs or exits.
The SH3 stop just south of Bulls is one of five at key major traffic points around the country.
Central District police want to remind motorists to always wear their seatbelts and drive to the conditions. Central District road policing manager, Inspector Dave White, said seatbelts were not accessories - they saved lives. "Before you start your journey make sure everyone in your vehicle, especially children, have their seatbelts on."
Mr White said there were added risks when driving on roads during peak holiday traffic and it was vital that motorists drove to the conditions and remained aware at all times.
"Our district has some of the most frequently used roads and highways in the North Island and during holiday season they can become congested and delays can be long. Making sure your vehicle is fit for the journey and listening to radio traffic updates before you embark could save you unwanted frustration in the long run."
During the official holiday period - from 4pm today until 6am Tuesday - the speed limit tolerance is 4km for all permanent posted speed limits.