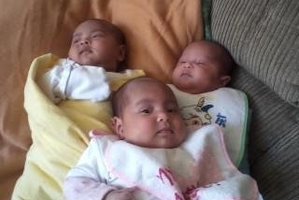 A neighbour of a man who admitted murdering his 2-month-old daughter said he seemed like a nice person.
On Tuesday Thomas Tamatea Ariki-Nui McGregor, 31, pleaded guilty in the High Court at Wanganui to murdering his daughter Hinekawa.
He is now on electronically monitored bail until Tuesday, when he must hand himself in to police. A Ministry of Justice spokesman said although the conditions of McGregor's bail were not suppressed, he was not prepared to disclose the details.
Arawa Pl resident Nelson Lebo said Thomas McGregor and his then-partner Tiffany Topia had "seemed like nice people" and the news of their daughter Hinekawa's death on January 12 last year had come as a shock.
"We were as surprised as anyone when it happened. I was up in Hamilton at the time, and it was all over the news - and when I read it was in Arawa Pl, I knew who it must be. There are only 10 or so houses in the street, and only one which had natural triplets.
"It was big in the news but then it all went quiet. We thought everyone had clammed up to protect a relative."
Mr Lebo said the family had moved from the Arawa Pl home soon after the child died.
Yesterday he said he and his wife were "quite surprised" to learn of McGregor pleading guilty in the High Court at Wanganui to murdering Hinekawa.
"It's sad to find that out ... it's a shame a life has been lost, and justice must be done."
The other two triplets and their 5-year-old brother were taken into Child, Youth and Family care after the death.
It is believed Miss Topia and the children now live in Australia, but attempts to contact her yesterday were unsuccessful.
Social Development Minister Paula Bennett changed her travel plans after Hinekawa's death to include a visit to Wanganui, and yesterday told the Chronicle she found it unconscionable that any father could murder his newborn baby.
"Babies have no defences. They rely on the people closest to them to protect and love them, and baby Hinekawa deserved to be loved and protected and to grow up with her siblings.
"Like me, New Zealanders are sick to death of mongrels hurting babies, and I believe that's why the community is so supportive of the Children's Action Plan - we're making sweeping changes to put children ahead of adults as we protect them from abuse."
McGregor will be sentenced on December 18.