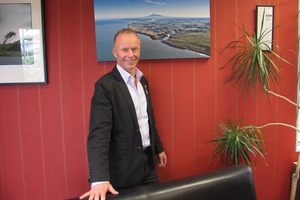 Ross Dunlop is thrilled he's swept into his third term as mayor of South Taranaki.
"I love being involved and am so pleased to be here again."
Mr Dunlop said he was proud to be at the helm of a such a "good, stable council with great staff".
"This really is a happy positive place and I'm not just saying that," he said.
Reading a survey staff had done about their workplace was amazing, he said.
"Everyone said what a good workplace it was ... one person even said they looked forward to getting up in the morning and coming to work."
Mr Dunlop, who has a farm at Ohawe with the sea is his neighbour, has been a councillor since 1989 before being elected as mayor in 2007.
"My father Ian was always a councillor so I grew up with local body politics.
I really believe for me it was like a call to duty, a call to be involved ."
In his first term in February, 2008 the Patea Freezing Works was destroyed by a huge fire and four years later on March 3, 2012 a storm labelled a "weather bomb" caused widespread damage in Patea after it lashed South Taranaki and Wanganui.
In gale-force winds, roofs blew off, tiles went flying, windows smashed, walls fell in, huge trees snapped and homes were annihilated.
Mr Dunlop said the storm had cost the South Taranaki Council more than $1 million and insurance claims reached much more than $5 million.
"That storm left many people in Patea struggling and desperate. it was a hard and very worrying time for everyone."
Many Patea residents were not insured and their houses were just wrecked, he said.
Mr Dunlop had set up a mayoral relief fund, with money also given by the Taranaki Regional Council and Minister of Civil Defence.
"We asked people who were struggling and in desperate need to make an application for financial help ... well we had so many the fund was used up very fast.
"There are still a small group of people in Patea who need help and I still keep in touch with what's going on there."
Mr Dunlop said he believes that although Patea has been hit badly over the years, the little town will have its time again.
"There are some incredible people there."
The reality is the region of Hawera is flourishing, he said.
"We have valuable industry here from Fonterra to the meat industry, the Yarrow Bread Factory in Eltham with of course huge exploration of gas and oil fields off the coast.
"There are also land-based exploration sites in Stratford and Eltham so this region has a huge strength and some of the best farmland in New Zealand is here," he said.
Local Hawera issues he wants to see dealt with include flushing toilets and a flourishing CBD.
Mr Dunlop said giving the town's CBD a lift and spending money renovating the public toilets next to South Taranaki's i-SITE would be projects starting in the next few months.
"This is a fine town. I've lived here all my life."