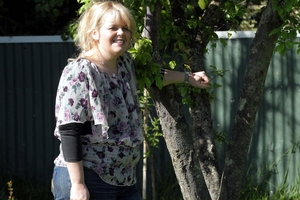 The 9cm tumour in Hailey Gillespie's left breast was not detected by a mammogram nor by an ultrasound.
Neither had the Wanganui mother-of-four felt a lump in her breast.
But a sense that something was wrong pushed her to seek medical treatment.
October is Breast Cancer Month, and Mrs Gillespie has chosen to speak publicly about her experience to let Wanganui women know there's more to breast cancer than discovering a lump.
Since her diagnosis in May, Mrs Gillespie, 41, has had four surgeries, including a double mastectomy, after two different types of cancer were found in her breasts.
"I noticed a thickening of the tissue around my left nipple, and an odd-coloured discharge from the nipple - it was like rusty water.
"I had a constant tingling sensation in my left breast, which turned into a constant burning sensation."
She urged all women to be aware of their bodies, particularly their breasts.
"I want them to know what is normal for them, so that they know if something changes. And if they do notice any changes, they need to do something about it immediately.
"Breast cancer is not something to take lightly."
And Mrs Gillespie would know, after five family members died of the disease, including a grandmother and an aunty.
"When I was diagnosed, I wasn't shocked - I just thought to myself, 'Oh no, I know how this goes, and I don't want to have to go through it'."
She believes a cancer diagnosis is harder for the patient's loved ones than the patient herself.
She and husband Warren chose to look on the positive side.
"But it was extremely hard for my children. There was this fear for them that their mother was going to die."
They got through the difficult times on the strength of their Christian faith, and a close and supportive family who helped out in many practical ways.
Mrs Gillespie declined radiation therapy, believing it was not the best option for her and her family.
"It would have involved spending five days a week in Palmerston North, for five weeks. And for what? Just the off-chance that they didn't get all cancer."
Instead she is focusing on being healthy, eating mostly raw, organic foods and plenty of fruit and vegetable juices.
She is currently going through an 18-month process of reconstructive surgery, which involves travelling to Hutt Hospital once a fortnight.
While she's still in recovery mode, she has plenty to look forward, including a holiday with her husband in Vanuatu, being a bridesmaid for a friend, and a fundraising climb of Mount Tongariro.
Mrs Gillespie hasn't been given a prognosis, although she was told by her surgeon that without radiation therapy she had a 10-30 per cent chance of the cancer returning.
For more information on breast cancer, check out www.nzbcf.org.nz