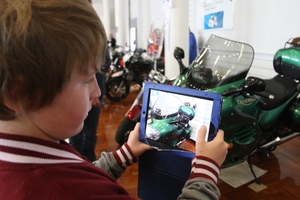 That motorcyclist who's getting in the way when you're driving is a person too - he just might be Kevin, a builder and father of three.
Showing that riders are people rather than mere obstacles to driving was one of the aims of Saturday's Wanganui Motorcycle Festival, organiser Baz Shipp said. Each bike had a nameplate, giving brief details of who was riding - and those people included mothers, fathers and grandparents.
The festival was a first for Wanganui, and Mr Shipp wanted it to be more than a show-and-shine competition. He wanted the whole community involved.
The weather was bad and it was the first day of the school holidays. More than 800 people passed through the Wanganui War Memorial Centre to see 78 motorcycles and the gear used by their riders.
"It was a fabulous day, and exceeded expectations," he said.
Admission was by a gold coin and at least $1700 was raised for first aid provider St John.
Horizons Regional Council's roadsafe co-ordinator Glenda Leitao helped with the organisation and had a safety focus. She said people had died in motorcycle accidents in the district in both the past two years.
Scooters are a particular danger for young people. They are cheap and don't require warrants of fitness. There was a faulty one at the show, to show people what to look out for when they buy a used scooter.
And there was safety gear, including clothing with adjustable arm and leg lengths for children to grow into.
A set of gear worn in an actual accident was especially interesting. St John staff spoke about whether people helping at an accident should remove the helmets of injured motorcyclists. They said helmets were best left on and should be removed only if that was needed to get the patient breathing - and sometimes just undoing the chinstrap was enough.
Six of Wanganui's many motorcycle clubs showed bikes on Saturday, as did some businesses. There was no competition, and no prizes. It was a chance to show off bikes just for the love of them.
The event got people from the two perceived ends of the motorcycle spectrum talking to each other - the "toffee-nosed" BMW riders and the "ratbags" who rode Harley-Davidsons. Plus there were lots of people who didn't ride but found plenty to interest them.
Wanganui has a rich motorcycle history, according to Mr Shipp, through the famous Cemetery Circuit event in summer and through being near the Parapara section of SH4, which bikers like to ride.
He chose springtime for the festival because people were dusting off their bikes after winter and organising pre-Christmas events.