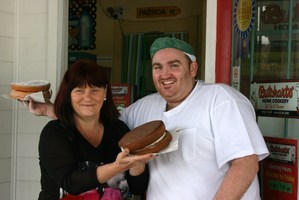 Baking will soon be a piece of cake for staff and clients at Whanganui's forensic mental health unit Stanford House.
They are busy developing their cooking skills with cake making during September and October, in preparation for the Great Stanford House Cake Bake Off and recipe book.
Stanford House registered nurse Marie White said: "Three teams of a staff member and a service user are working together making cakes, which are then judged on the day for their presentation and taste."
Mrs White said it was special to see people working together as a team to create a unique cake.
Every cake made over the two months will be photographed and the recipe entered into the recipe book.
There are the old favourites: banana cake, gingerbread cake and red velvet bake among many others.
Some are more regional including ohakune carrot cake, banoffee cake, or rare - baked bean cake, anyone?
Vegetables and fruit grown at Stanford House are being used in some recipes, which fits with the call for participants to be adventurous.
Guest judges include Whanganui District Health Board staff members and staff from community organisations including Balance Whanganui and Supporting Families. A special diabetic cake will be judged by a guest judge who has diabetes, and first, second and third prizes will be awarded.
Mrs White said: "The cookbook will help other Stanford House service users become more confident about cooking as part of their rehabilitation.
"And working as a team will encourage everybody who joins in to become more independent as they prepare to live in the community."