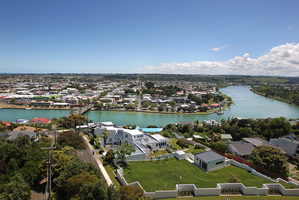 Hopeful Wanganui punters are lining up for Lotto tickets ahead of this weekend's $20 million Powerball draw.
But experts warn you're more likely to be attacked by a shark than find riches on Saturday night.
Trafalgar Lotto Shop owner Brenda Brasting said the shop had been extremely busy this week with people buying Powerball tickets for Father's Day.
"Saturday traditionally for us on Father's Day is busy, especially when [Lotto] runs a promotion like they have this year.
"The $20 million will make a huge difference. A lot of people like buying their dads Lotto tickets."
The shop had seen the same regulars buying their weekly tickets but there had also been a lot of new faces this week as the jackpot approached.
"Some people come up and say, 'I've never bought a ticket before'."
Associate Professor of Statistics at the University of Auckland Ross Ihaka said the odds of winning Saturday's $20 million windfall were 1 in 38 million.
"A comparable event would be if you tossed a coin 25 times and it came up heads every time."
To put that further into perspective, in the United States - which has the highest number of shark attacks worldwide - your chances of being attacked are 1 in 11.5 million.
But most people did not choose to focus on the negative, instead dreaming of all the things they could buy with the winnings, Dr Ihaka said.
"Most of us aren't thinking about that low probability."
A tax-free $20 million winning Lotto ticket could get you 12 average-priced houses in Auckland's Herne Bay - the country's most expensive suburb - or 108 average-priced homes in Wanganui.
There was no way to play strategically, but choosing numbers no one else picked meant you wouldn't have to split the cash with other winners, Dr Ihaka said.
"I just get a lucky dip because then it's going to be random."
Platform Trust chief executive Marion Blake said many people saw playing Lotto as an acceptable form of gambling because some lottery money funded community organisations.
"You'd buy your mum [a ticket] for Mother's Day.
"I've heard a lot of people say, 'I'm going to buy a Lotto ticket but it's like donating to the community'."
The "good side" was that community organisations benefited significantly from lottery grants.
But buying Lotto tickets was still gambling, Ms Blake said. "The odds don't matter to people. It's almost like everybody can see themselves as that shopkeeper in [Te Kauwhata]."