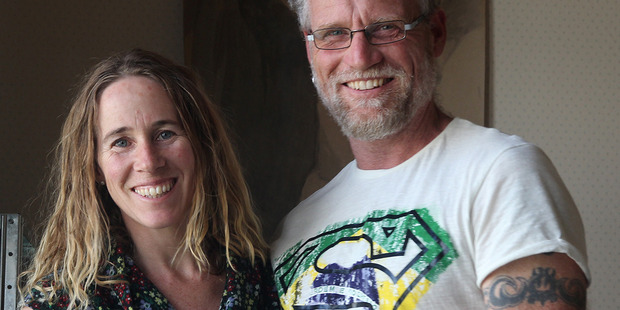 Artworks by eight newcomers to Whanganui are part of the Belton, Smith & Associates Whanganui Arts Review this year.
Among them are established artist Jillian Karl and her daughter, Claudine Kitson, who moved to Whanganui from Waiheke Island three months ago. They have swelled the numbers of artists who have moved here from the "busy" island.
"As a newcomer to Whanganui it's an honour to become a friend [of the Sarjeant Gallery], to be part of the Arts Review and to be a part of the arts community," Mrs Karl said.
"We felt embraced at the Sarjeant and very impressed by the protocols and the efficiency."
Her abstract paintings, predominantly using black paint, question architectural and painterly ways of seeing and perceiving. Mrs Karl, who has a masters degree from Elam School of Fine Arts, is a member of a group of artists who have recently moved to Whanganui and share academic interests.

The Arts Review is the first time Mrs Kitson has shown her work.
"I was really delighted when it got accepted and then utterly shocked when I got a merit award," she said.
"In fact, the entire process of the Arts Review has given me a huge amount of confidence in my work. Entering has added to and enhanced my practice."
Glass artist, trained dancer and actor Philip Stokes moved to Whanganui in May 2016 with husband Scott Redding, manager of New Zealand Glassworks.
The Melbourne ex-pat said he had been aware of Whanganui's thriving art and glass art scene for many years.
"This was the first time I entered the Arts Review. I did catch the previous year and was pretty excited when I came into town and saw a show of that calibre at the Sarjeant. It's one of the most recognised galleries in New Zealand; it's a very special asset for Whanganui and a massive drawcard for artists."
His signature works are based on muscles and sinews of the human body, and about the interplay when they are suspended in space or combined in groupings - much like dance.
John Currin, Sonia Forsey and their two young children arrived in Whanganui from Motueka eight months ago.
"I was dragging my heels for ages but John really wanted to move because of the artistic community, but it's been awesome," Ms Forsey said. "I hadn't exhibited anything for a very long time.
"It's lovely to be in the Sarjeant Gallery and to be represented in the show."
One of the reasons she was persuaded to move was to study art at UCOL. Originally a jeweller, she is self-taught in drawing and painting.
Her work expresses concern about climate change and her Arts Review entry depicts a woman continuing to pick roses as the water rises.
"We wanted to be somewhere we could walk to town to try to reduce our carbon footprint. It feels like there's a lot of potential here."
Mr Currin's digitally produced mixed media work is photography-based, with some painting and illustration.
"I use very organic textures, which makes them quite painterly - buildings weathered with time, broken glass, graffiti and subversive acts, and the subject matter is often slightly apocalyptic."
By chance Henry Sarjeant's house in Bell St features in the work he entered for the Arts Review, simply because he liked the building.
The 2017 Belton, Smith & Associates Whanganui Arts Review is on display at Sarjeant on the Quay until May 14. The review is the one time in the Sarjeant annual programme where visitors are given the opportunity to buy great works from local artists.