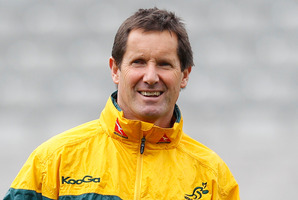 Ewen McKenzie is set to be named as the new Wallabies coach on Tuesday afternoon following the official departure of Robbie Deans.
The Australian Rugby Union on Tuesday morning confirmed Deans' five-year reign was over, Saturday night's 41-16 series-deciding loss to the British and Irish Lions in Sydney proving the nail in the New Zealander's coffin.
A press conference will be held in Brisbane to usher in Deans' successor.
Deans coached the national team in a record 74 Test matches since being appointed in 2008.
.@QantasWallabies head coach Robbie Deans has announced this morning he is stepping down from the role effective immediately.

— Qantas Wallabies (@QantasWallabies) July 8, 2013
The former All Black and most successful Super Rugby coach in history broke new ground when he became the first non-Australian to land the country's most coveted coaching position.
But with his fate sealed Deans advised ARU chief executive Bill Pulver late on Monday he was standing down.
"I wish to take this opportunity to thank everyone involved in Australian rugby for their support through the duration of my tenure,'' he said.
"It has been a rewarding five years and I am proud of all that we have achieved.
"Most especially I would like to thank the players for their efforts and wish them all the best going forward.''
Pulver said Deans made a significant contribution to Australian rugby over a long period of time.
"Robbie came into the job in 2008, improved our away record almost immediately, delivered a Tri Nations title in 2011 and has been a significant part of a Lions tour that overshadows any other rugby event in Australia since the 2003 Rugby World Cup.
"As a consequence of a coaching review process that has been ongoing through 2013, we are also in a position to make a further announcement on the coaching position - and name Robbie's replacement - later today.''
From the archive:
2007 - Deans to coach Wallabies and Crusaders
- AAP