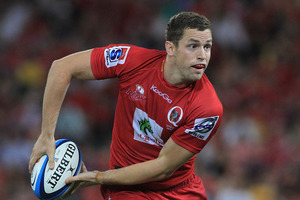 Mike Harris kept it quiet in the schoolyard as a kid, but the talented playmaker says he always had one eye on playing for the Wallabies.
Queensland coach Ewen McKenzie's inspired decision to bring the superboot across from Auckland two years ago opened the way for Harris to strive towards a gold jersey instead of a black one, because of his Australian-born grandmother.
Harris can't hide the Kiwi accent and accepts the banter that will inevitably come his way from back home if he makes his expected test debut against Scotland on Tuesday night in Newcastle.
But don't think Harris is taking the honour lightly.
He was serious enough about his Australian heritage to learn Advance Australia Fair as a student at North Harbour's Westlake Boys' High, and Harris described his call-up to the Australian training squad as an emotional moment for himself and his family.
He could be handed five-eighth and goalkicking duties on debut, but the 23-year-old insists he's as ready for those challenges as he is for the anthem.
"I don't know if my mates were aware [of his Australian heritage] but I certainly was ...
"I guess it's not something you really talk about at lunchtime rugby, is it?
"There's always a little bit of stick in there but ... everyone's been very supportive.
"I guess the world's getting smaller ... just because you're born in a country doesn't mean you're there for life.
"It's a very proud moment for me to be named and hopefully if I can impress the coaches enough this week I'll get the chance to put the jersey on."
Parents Fran and Barry shed a tear when their son was named in the preliminary Australian squad, and they're preparing to fly out if he is to debut in Newcastle.
As a New Zealand schoolboys and under-20s representative, Harris played against many of the Wallabies he now calls squad-mates - including Quade Cooper, Kurtley Beale, Rob Simmons and Rob Horne.
With Reds teammate Cooper still in the early stages of his return from a serious knee operation, and Beale and James O'Connor unavailable through injury, Harris has rocketed into contention to wear the No10 or 12 jersey against Scotland.
Harris set a Super rugby all-time record earlier this year when he booted 24 straight successful shots at goal - and he's now on a new streak of 15 consecutive goals.
"[Goal kicking] is one thing I'd definitely put my hand up for ... I've put the hard work in."
- AAP