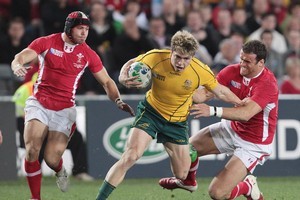 Robbie Deans' Wallabies, who finished their Rugby World Cup last night, should not go home without recognition of their place in world rugby.
It is certainly better than the third place for which they were playing last night. Australia are the only team besides the All Blacks that consistently play the game that rugby needs to be.
They play with similar pace and flair and when the two sides meet, as in the semifinal last Sunday night, the game reaches its greatest heights.
The All Blacks have been well praised for their winning performance but it takes two teams with the right attitude to make a contest of that quality.
The only blemish on that match was the crowd's treatment of Quade Cooper. He once put a knee to the head of the All Black captain and has never heard the end of it.
The booing that erupted around Eden Park whenever he touched the ball last weekend was an embarrassment. Too many rugby fans seem to have no sense of when enough is enough.
Australia's loss to Ireland was the tournament's first upset, and Australia's defeat of South Africa in a quarter-final was the second.
Those results eased the All Blacks' path. They might otherwise have faced South Africa last weekend and Australia tomorrow.
Such is the unpredictability of World Cups. Australia have won the tournament twice, a feat New Zealand will try to match tomorrow. Our nearest rivals have to be content this season with the Super 15 and Tri-Nations titles. Not bad.