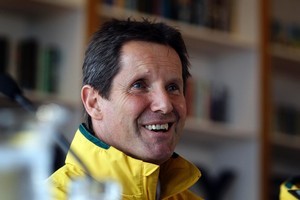 The All Blacks' prowess under the high ball played a key part in last night's Rugby World Cup semifinal victory over Australia.
And wing Cory Jane revealed that it's become a point of pride for the team's backs.
"We always work on it. Our goal is we've got to be 100 per cent," he said.
"That's our job. If we drop a high ball, we're in trouble."
While Jane and fullback Israel Dagg were surehanded against the Wallabies, the same couldn't be said for their opponents, and it didn't go unnoticed with Australian coach Robbie Deans.
"We weren't as effective in the air. They were superior to us and that was a big point of difference," Deans said.
Asked if the All Blacks would have a chance to unwind and relax before settling into their preparation for the final against France, Jane offered a cautious response.
"I don't want to relax too much," he said.
"I relaxed last week and got into trouble for it," he said, referring to his unscheduled boozy night out before the quarter-final against Argentina.
"We'll take a couple of days to rest the body and get back into training mode.
"We'll work hard this week, but enjoy it, because we're in a final at home. You've got to enjoy it."
Dagg, whose booming punting kept pegging Australia back, didn't feel one particular moment turned the game New Zealand's way.
"I thought we had to come out in the second half and score first.
"Our defence really laid the platform. We tackled like we were on our goal line every time they had the ball," he added.
For first five-eighths Aaron Cruden, the final will revive memories of watching the 1999 semifinal defeat to France at Twickenham while he was still at primary school.
"They're an unpredictable team and play with a lot of passion," Cruden said.
"So we're going to have to make sure we do everything right and tick all the boxes."
Cruden, who has had a remarkable two weeks since his late call into the All Black squad, said he had "just put my head down this week. I wanted to be really clear about what I wanted to do out on the paddock."
He has confidence in his ability and tries to limit the pressures as much as possible.
"We're all picked in this team because we are good enough," he said.