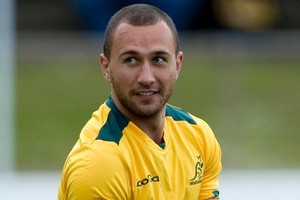 When it comes to producing ignorant oiks Australia is right up there.
Sadly, given some of the reported treatment of Australian rugby fans in this country, so does New Zealand. It's just one more thing we've got in common with our cuzzies across The Ditch.
Luckily, the majority of Kiwis realise that Australians are more deserving of our thanks than our scorn.
Australia has undoubtedly done a lot more for New Zealand sport than we have ever done it. Just what would the sporting landscape in this country look like without the Phoenix in the A-League, the Breakers in the NBL and the Warriors in the NRL? A desert, that's what.
There are commercial imperatives involved in hosting Kiwi teams in Australian competitions. New Zealand is a sizeable market to exploit, while our teams add much-needed diversity and an element of transtasman rivalry to the Aussie comps. But they are Australian competitions. They don't have to have us, they choose to.
In doing so, they raise the horizons and earning potential of hundreds of Kiwis sportspeople. The Phoenix's presence in the A-League is often cited as a major factor in the All Whites' wonderful World Cup showing, while the Breakers' winning the ANBL title was one of the most thrilling moments of this sporting year.
The Warriors' perennial struggle to assert themselves in the NRL captures the attention of thousands of Kiwis every weekend. And would our Kiwis really be world champions without up to 80 of our country-folk in the NRL each season?
In return for Australia's generosity, all we've had to give up is Quade Cooper. Talk about a bargain.
Sporting triumphs can only ever be measured in terms of the quality of the vanquished.
In that regard, Australia is the very best of enemies. Winning the league World Cup would hardly be a thrilling achievement if the Kangaroos were as bad as, say, England. And there would be precious little fun in the All Blacks smashing up the Wallabies year-in year-out if they weren't capable of the occasional upset.
The vicious vein of the anti-Aussie sentiment sweeping this country is based on ignorance and fear. It says a lot more about Kiwis than it does Australians.
As any Kiwi who has lived overseas knows, Aussies really are our brothers and sisters. On uncommon ground, we always stand together. These days the question isn't who in this country has relatives and friends in Australia, but who doesn't?
Without Australia as a sporting foe we'd be isolated from decent competition. We should appreciate Australians and we should embrace them. Then we should wallop them.