Consider the bees' needs when planting your garden as not all plants produce good quality pollen.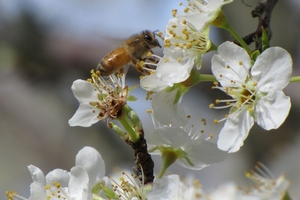 At this time of year there can be a shortage of quality forage for honeybees. Colonies are building their numbers in preparation for the main honey flow and require good quality food to do so.
It can be tough to collect enough pollen and nectar to raise their brood, particularly in rural areas.
Like all animals, health depends on good quality nutrition. Bees require pollen for their protein, vitamins, minerals and lipids. Nectar gives bees carbohydrates for energy.
The other essential to their diet is clean water. Like us, bees need a variety of good quality foods to maintain health. Declining floral sources leads to malnutrition, making bees more susceptible to pests and diseases.
It also affects the queen's ability to lay and the nurse bees' ability to feed the larvae.
Not all pollen is created equal - some plants produce pollen with higher protein levels than others.
Bees need good quality foraging opportunities throughout the year and farmers and urban gardeners can play their part in helping provide them.
Whether you are planting windbreaks, along waterways, roadsides or urban gardens, there is a large range of bee-friendly trees and shrubs to choose.
The Federated Farmers website has an excellent range of trees and shrubs that support bees, including native and ornamental varieties.
It also lists those that are banned. There is a regional brochure for each area of the country to help in making appropriate choices.
The Trees for Bees website also has specific lists for urban gardens.
Some of the suggested trees include five finger, kamahi, cabbage trees, kanuka, manuka, lemonwood and flax.
Non-natives include rosemary, tree lucerne, weeping willow, blue gum and silver dollar gum.
In urban gardens, apples, lavender, citrus, pear, lemonwood and bottlebush are all firm favourites, along with flowers such as phacelia, cornflowers, alyssum, sage, chives and borage.
Planting in clusters attracts bees and makes foraging easier.
A number of weeds also provide excellent foraging opportunities for bees, including gorse, broom and blackberry - but they are on the banned list.
Pine pollen is very low quality and not helpful which is a shame given there is so much of it.
Insecticides kill bees so if you really have to spray (the bees would prefer you don't spray at all) please spray early in the morning or at dusk.
Never spray when bees are present and don't spray anything that is in flower.
For more information visit www.fedfarm.org.nz/treesforbees