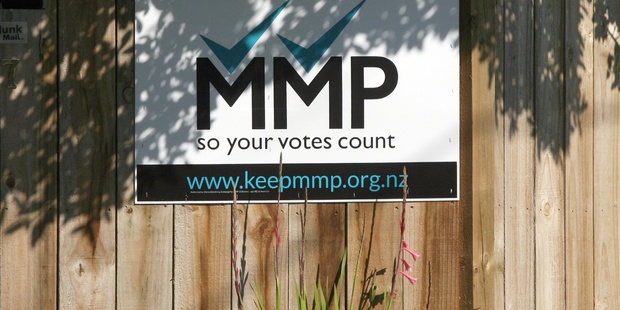 I HAVE always been a big fan of the MMP electoral system, despite a few faults. True, it does appoint to some very high positions some MPs who were not literally voted in, but arrived on a list. And in its early days, some minor parties became a bit silly with the power and influence they thought they had.
But I believe MMP has strongly come through a baptism - not of fire, but of common sense. All elections are popularity contests, but in MMP's party vote - the one that decides what percentage of a party's MPs get into Parliament - you really get to see which party is trusted and which isn't.
The National Party's latest snub to the Conservatives, in refusing to withdraw a sitting National MP from East Coast Bays to give Colin Craig a go, has everything to do with a National leader knowing which dubious people and parties to steer well clear of at this stage of the election campaign. And being confident enough to do so.
Trust, as opposed to likeability, is the deal with the party vote. If the polls are anything to go by, it seems the country's voters generally trust National to keep matters on an even keel and not dish out too many surprises, while working on generating more money for our economy.
I honestly think most people don't especially mind deep sea drilling taking place in our waters, and are pretty confident it can be done without an environmental mishap.
Labour, possibly in a bid not to seem too 'green' to the point of stifling economy, has supported it, causing a rift with the Greens.
My point is that people generally want things that make their lives better. Right now, Ways To Get More Money are crowd-pleasers. Environmental concepts like dolphins versus pollution are not.
Nationally, people don't really seem to be in the mood for extreme right-wing items like harder immigration rules or harsher prison sentences. It's been tried before. It's failed.
No one's too worried about MPs with dodgy chequebooks or having dinners in China. Some MPs are flakey. We get it.
Labour has done the right thing in promoting some very likeable education policies, because part of making people's lives better is providing social justice and opportunities for the younger generation.
I wonder if a campaign of social education reform, from early childhood, could have been a real flag to fly.
Who is liked and who isn't? MMP will be the harsh judge.
For more articles from this region, go to Wairarapa Times-Age